User Manual
BROADCAST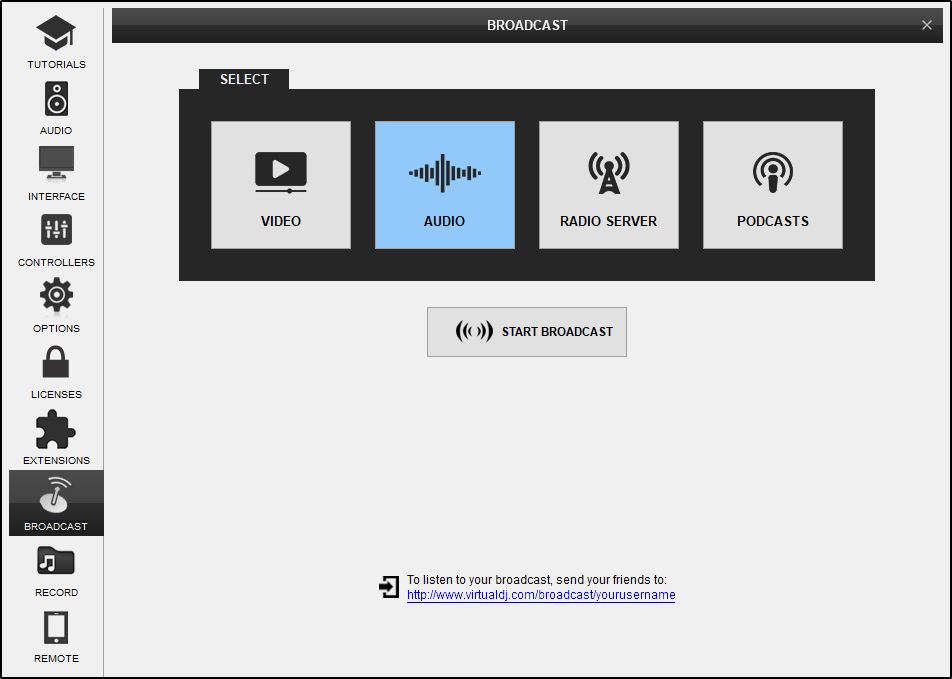 The Broadcast tab of Settings provides 4 possible ways to broadcast your mixes over the Internet. Click on the type of Broadcast required then click on START BROADCAST to start streaming the broadcast over the web.
---

Broadcast video directly to your favorite social platforms. Follow our Video Broadcasting Guides to get connected.
---

Broadcast audio directly from your computer. Click on START BROADCAST and provide the link at the bottom of the broadcast window to your listeners.
---

Broadcast using an Internet Radio Server. Icecast (OGG format streaming) and Shoutcast (MP3 format streaming) are supported. Fill in the provided fields with the data required by the host (server) along with any additional information for the broadcasting session.

*Requires a Pro Infinity or Pro Subscriber license

---

Broadcast directly to the virtualdj.com servers and save your mixes. Enter an Episode Name for the Podcast and click on START BROADCAST. To manage your podcasts, click on the link provided.

Note: Broadcasting requires Port 8000 needs to be forwarded in case a router is used. More information can be found here: http://www.virtualdj.com/wiki/Broadcasting%20Howto.html
Video Broadcasting