User Manual
INFO PANEL
The File Info area displays information of the selected track of File List or Sideview, such as Artist, Title, Artwork, Remix, Year, Album, Genre etc and offers a Prelisten Player as well as an adjustable Rating (stars) that can be changed directly from the panel.


PRELISTEN PLAYER


Click on the Play button to play-pause the Prelisten Player or click inside the progress bar to prelisten any part of the track, By default the Prelisten Player will use the Headphones Output. A security message will be displayed in case no Headphones Output is configured in the Audio Setup.

An additional menu option will be offered if no Master or Headphones are configured in the Audio Setup (External Mixer setup). In this case choose Automatic if you want VirtualDJ to output the Prelisten Player to the selected deck or choose any of the available Outputs if you wish to send the Prelisten Player to a specific Deck Output.

If a video file is selected, the cover art will be replaced with the video preview of the selected track.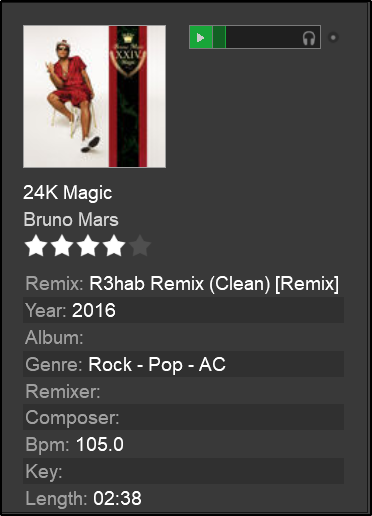 Click on the Info Options button, right next to the Prelisten Player to access the Info Options menu. It provides the following options: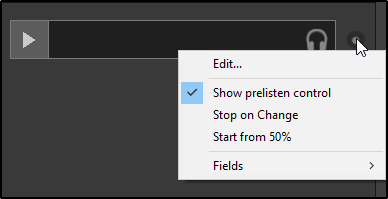 Edit
Opens the Tag Editor
Show prelisten control
Show or hide the prelisten player from the info panel
Stop on change
Stop the track playing once a new track is highlighted in the browser. With the option unchecked, any track highlighted will continually play without touching the play button.
Start from 50%
Starts previewing the track at the half way point. The value can be adjusted by right-clicking the position in the preview player to set it to a different value (25%, 75%, etc).
Fields
Manages the visible Database fields of the Info window

VIDEO
Using the Preview Player