User Manual
Custom Buttons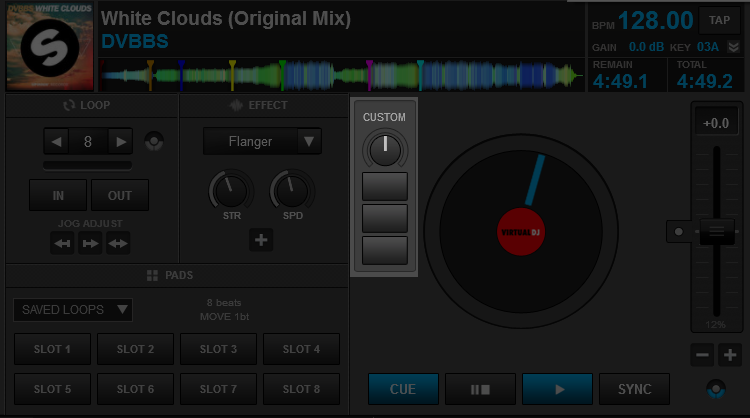 In order to cover all possible needs, features and actions, VirtualDJ offers Custom Buttons in the Default Interface as well as on a Pads page. This adds a few extra empty buttons and dials to customize (via VirtualDJ script actions*) any additional functions that may be individually needed but are not present in the Interface. On first launch, the buttons and dials will be un-assigned (blank).
Custom button are hidden by default, but can be displayed by clicking on the deck layout drop-down and selecting "Show some empty buttons".

Click on any of the available Custom buttons or dial to assign an action to it. On first use an explanatory pop-up message will appear explaining the reasoning for this feature. The pop-up can be turned off for future use by checking the "Don't show again" option box or setting customButtonWizard to "No" in Options (See Settings for more information). Click OK to Continue.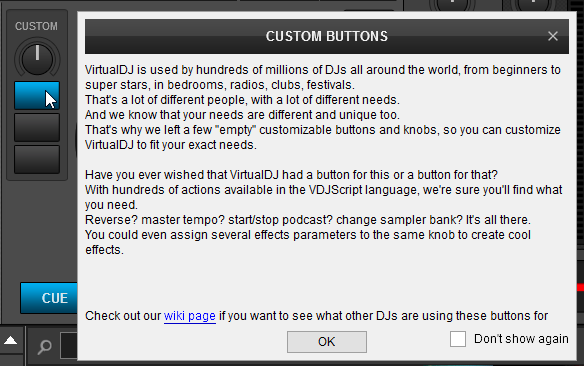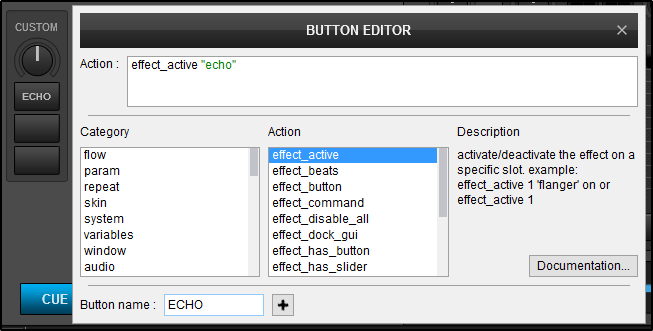 The Custom Button Editor will open displaying all available VirtualDJ Actions grouped by Category with a side Description in order to help understand the scripts provided and some syntax tips for examples.
Click on a category to reveal a list of actions or start typing a script in the Action field. The field will Auto-Fill as more characters are entered. Once the Action Field is filled with a valid script, add a short description in the Button name box to label the Button (If no name is typed, the Action will be used for the button's label.)
After closing the Button Editor, the Custom Buttons on the interface will now control the assigned actions. Similar operation is applied for the Custom Dial.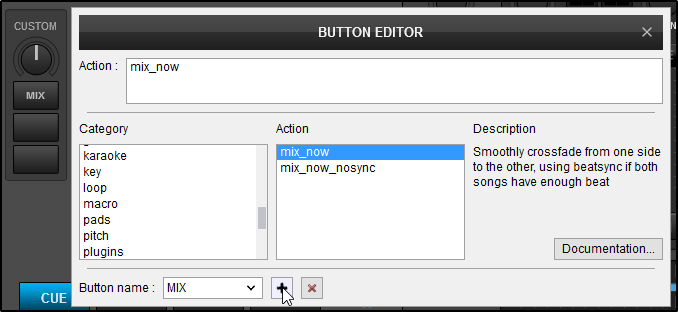 Additional actions can also be assigned to the same button. Once the first action is assigned, right-click on the Custom Button to open the Custom Button Editor and click on the button at the bottom (Button name). An additional desired action can then be added and labeled.
Once the Custom Button Editor is closed, right-click on the custom button and choose which of the assigned actions are needed on that button or click Edit to adjust or remove the Custom Buttons already created.

More details about VirtualDJ script actions can be found here: http://www.virtualdj.com/wiki/VDJScript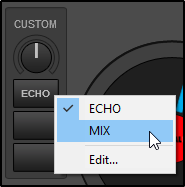 Pads