User Manual
PADS EDITOR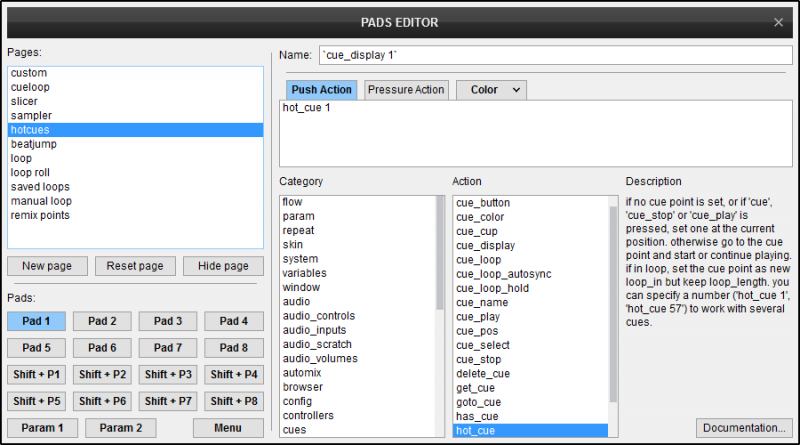 The Pad Editor gives complete control of the pad functions in the decks. They can be set up to control custom scripts, or to edit any of the predefined Pad Pages. Each pad can be mapped individually to be controlled via the pads in the software interface and/or for pads on controllers that offer the functionality.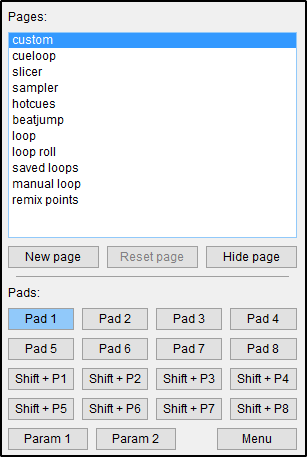 On the left side of the Pad Editor there are 2 areas: Pages and Pads.

Pages allow you to create, delete or hide the pages that are available in the pad view on the software interface. Each page has the ability to store different actions into the 8 available pads. Pages can be added and removed to suit your needs as well as hidden from the main interface if not required. There are 11 pre-installed pages to use and/or customize.

Pads are specific to each page and can be mapped to any action that is available in the VDJScript. 16 Pads are available in total (8 standard and 8 by using the shift function) as well as 2 Parameter buttons and a Pad Menu.

*Note: A VDJScript action "Shift" will need to be mapped to a controller or keyboard shortcut to use shift functionality. If you are using a mouse, right-click will perform a shift action.

The right side of the Pad Editor is where you can name your pads, add or edit a push or pressure action or add a color for each individual pad.

A category and action menu are available to give a description of the actions as well as to auto complete the actions required.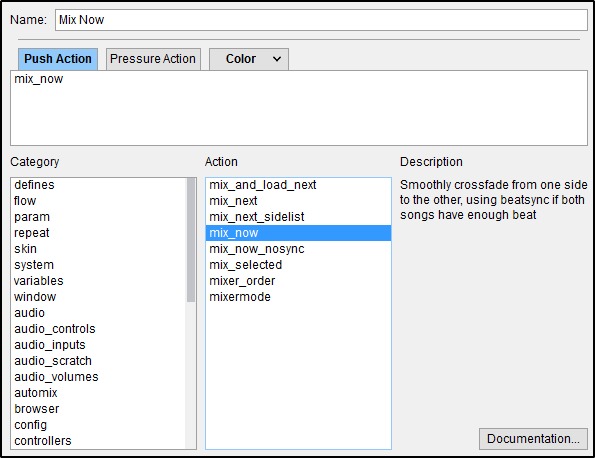 EDITING A PAD
Click on the Page selection menu and select Edit...

In the Pads Editor, select the Page that the pad to be edited is on. Then click on the specified pad. Ensure that the page and pad are both highlighted.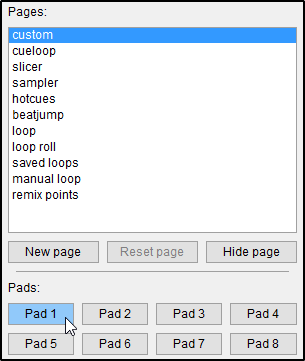 Enter a name for the pad and select Push Action or Pressure Action (for velocity sensitive controller pads) and either begin typing into the provided script box or select a category to find useful scripts.

Once a Category is selected the Action box will populate with popular script examples. Clicking on a script will add it to the script box automatically.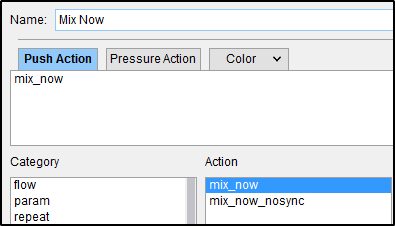 Optionally, a color can be added to the pad by clicking on the Color tab drop down menu or typing a color script into the Color box.

Once you are satisfied with your changes, simply exit out of the Pads Editor and the edit will automatically be saved. The Name and Color chosen in the Pads Editor will now reflect on the Pads display in the software.

ADDING, DELETING & HIDING PAGES
Pad Pages are fully customizable and can be added, deleted or hidden at will.

To add a page simply click on New page and give your page a name. You can then edit the page to your liking.

If you are not happy with a page, click on it so that it is highlighted and select Delete page to remove it.

If you would like to keep a page but do not wish for it to appear in the Pad pages menu in the interface, you can highlight it and select Hide page. The page will still show as hidden in the Pads Editor but will not be displayed on the main screen.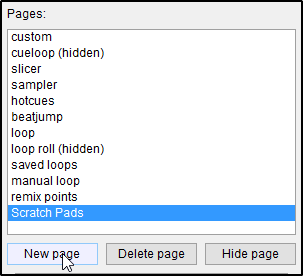 SHIFT ACTIONS
Clicking on the Shift+P in the Pads Editor will provide alternative actions that can be mapped for each Pad that will not affect the original Pad mapping. Right clicking the Pad on the user interface or pressing Shift + Pad on a controller will activate the alternate mapping.

PARAMETERS & PADS MENU
Each page offers the ability to create and edit 2 Parameters and a Pad Menu.

Parameters are useful for pages that require multiple pad functionalities such as cycling through loop sizes or sample banks. Not all default pages have set parameters, but they can be added if needed by using VDJScript. Parameters are mapped the same as
pads
.
Pad Menus give quick access to settings or options to adjust the pad's behavior such as applying Slicer or Loop Roll actions to the video output. Not all pages require a menu as they do not necessarily have many options or settings that require adjustment in a live setting. The most common pages are provided with menus by default.
For more information on Pad Menus and the syntax used, please see:
http://www.virtualdj.com/wiki/PadMenus.html
16 PADS MODE
If a controller with 16 pads is connected to VirtualDJ, the Pads Menu will display 16 Pads and 16 Shift-Pads on a separate tab for a total of 32 editable pads.

If a 16 Pad controller is not connected but you wish to access 16 Pads Mode on VirtualDJ's GUI you can go to Settings Options and set sixteenPadsMode from Auto(default) to On.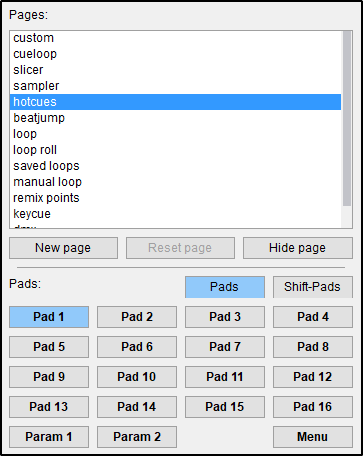 POI editor