User Manual
SIDE TOOLBAR
The Side Toolbar on the left vertical side of the Browser offers global Folder Operations and Browser features.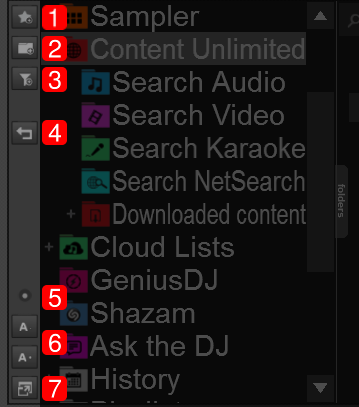 1.
Favorite Folder
- Mark a specific Folder as
Favorite
and add it to the
Folder list
for quick access (monitored)
2.
Virtual Folder
- Creates a
Virtual Folder
(unmonitored)
3.
Filter Folder
- Creates a
Filter folder
(monitored)
4.
Goto Last Folder
- Goes to the last used folder
5.
Browser Options
- Displays a menu with the following options:
Show Only
Shows or hides Music, Video or Karaoke files.
Display Options
Display List as
Choose between the List View (default) and Grid View with large icons (for Touchscreens)
Font Size
Choose between Small, Medium, and Big fonts.
Padding
Provides the ability to increase/decrease the spacing (padding) between browser lines. Choose from None, Small, Medium or Big.
Reset Root Folders
Displays any folders that have been hidden.
Database
Remove missing files from Search DB
Clean the Search Database from files that no longer exist.
Create Database Backup
Creates a zip file backup of the database, folders, history, mappers, pads, playlists and settings in the folder Documents/VirtualDJ/Backup on your computer.
Export browser view
Exports what is currently displayed in the browser (including fields) to a .csv file (that can be opened as a spreadsheet in softwares that support it) or a .html file (for web use).
6.
Font Resizer
- Increase or decrease the size of the Browser font with the buttons.
7.
Browser Zoom
- Increases the size of the Browser and reduces the size of the decks (See
Mini Decks
).
File list