VirtualDJ 8 User Manual
INTERFACE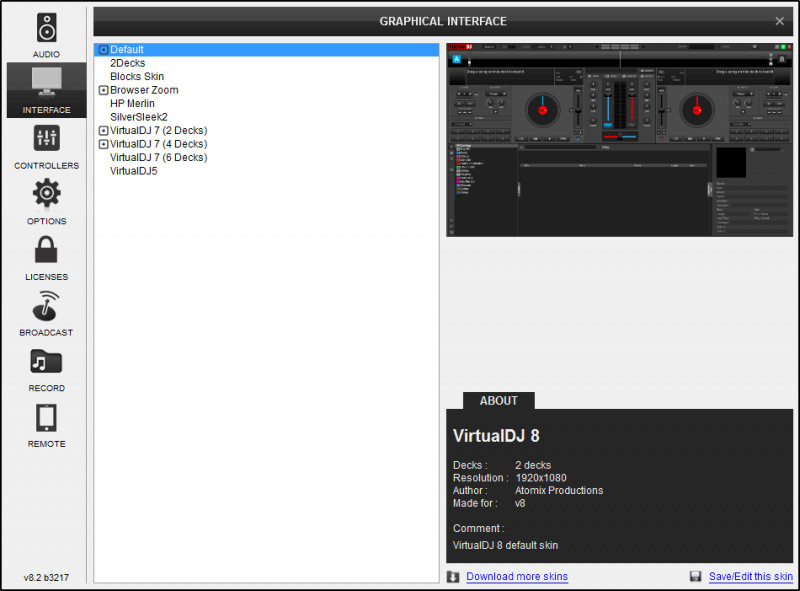 The Interface tab of Settings offers the available Graphical User Interfaces (also referred to as a GUI or Skin). Moving the mouse over a selection will preview an image and some details will be shown on the lower right side. Click to choose and load the desired Interface layout. The default GUI offers 2, 4 and 6 Deck versions along with a Touch skin (for touch-screen users).
At the lower right of the menu there is a button to
Download more skins
. This will open up a webpage and display additional skins that are available for registered licensed users to be downloaded. To view available skins for download, please visit:
http://www.virtualdj.com/plugins/index.html?category=skins
An additional option available in the lower right of the menu gives you the ability to export the skin for editing. Clicking on the Save/Edit this skin text will provide the option to export the skin to the folder Documents/VirtualDJ/Skins so that they can later be altered.

You can choose to export the full skin (.zip) or export the image and definition file seperately (.png/.xml).
Custom skins can also be created. To learn more, visit
http://www.virtualdj.com/wiki/Skin%20SDK%20
Controllers