Hardware Manuals
PADS - SAVED LOOPS MODE
Hold the
PAD MODE
mode button down and then press the
6th Pad
twice
(or once if already selected) to set the PADs to Saved Loops mode Release both buttons.
The
Saved Loops page
will be then selected and displayed on the Pads section of both VirtualDJ and Touch screen GUI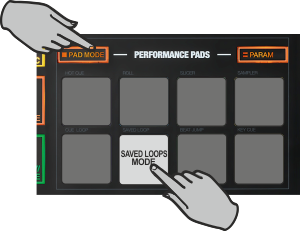 Saved Loops mode selection

TOUCH GUI view
This mode offers the ability to
save
up to 8 Loops to individual
Loop Slots
.
Press any Pad to save the current Loop at the current track's position (of the selected size in beats) to the relative slot.
Hold
the same Pad down for more than 1 second
to delete
the Saved Loop.
When a Loop slot is saved, press the corresponding Pad to
load
(
prepare
) the Saved Loop.
If the track's position is before the Saved Loop point, the loop will be enabled but the track will not jump to that position (Prepare status). Use the same Pad to disable the Loop.
Hold
SHIFT
down and then press one of the lower Pads to
load
the Saved Loop, but also
jump
to that position.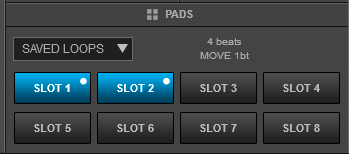 VirtualDJ GUI - Saved Loops mode

TOUCH GUI - Saved Loops mode
Hold the
PARAM
button down and then use
Pads 1 or 2
to
half
and
double the size
of the triggered Loop. The size of the Loop can be also adjusted from the XCODER when in Loop mode.
Hold the
PARAM
button down and then use
Pads 3 or 4
to to
move
the Loop forward/backwards
by 1 beat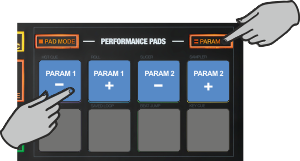 Manual Loop