Hardware Manuals
Timecodes
The VMS5 is capable to offer a Timecode setup (DVS) with its built-in 4out/4in audio interface.
How to:Power off
the unit, set the front switcher to the
4out position
and power the unit back on.
Launch VirtualDJ 8, head to the AUDIO tab of Settings and click on the
TIMECODE SIGNAL button
you will find at the INPUTS tab of the Audio Settings.
2 additional lines will be automatically added to the audio configuration. You will then need to make sure that the
decks are routed properly
to the Midilog Channels as per the following image or as per the images shown in the 4out mode.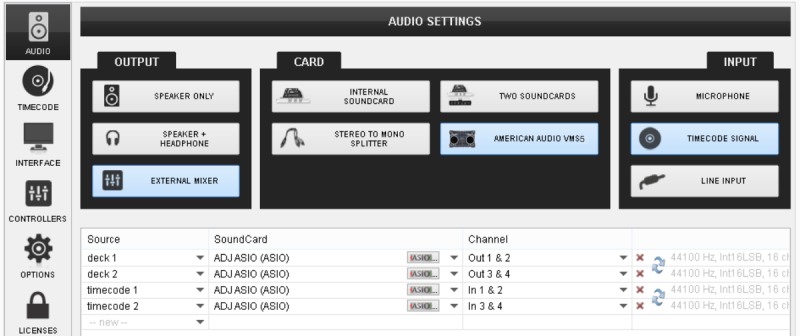 Timecode Audio setup
---

Hardware Integration Department
2016 - ATOMIX PRODUCTIONS
Reproduction of this manual in full or in part without written permission from Atomix Productions is prohibited.