Hardware Manuals
Controls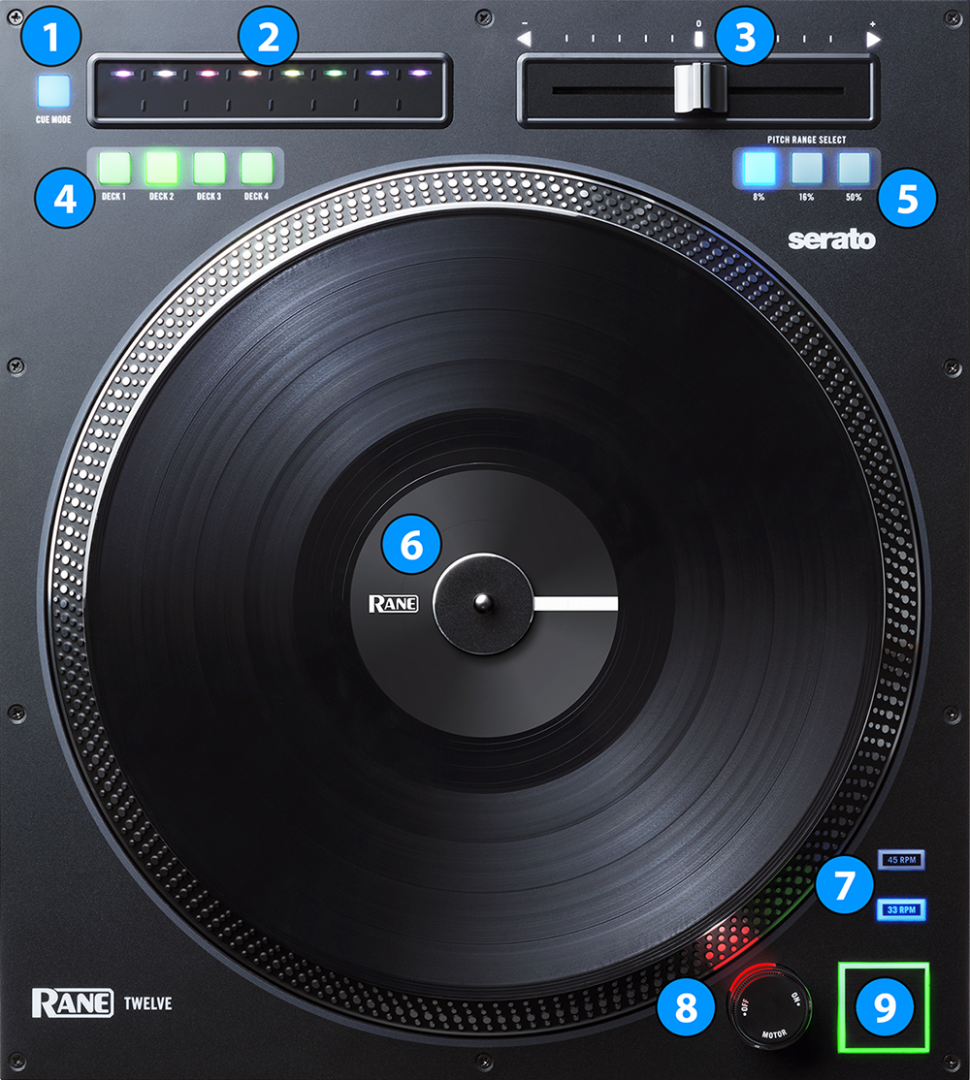 KEY
ACTION
1

CUE MODE
Toggles the Touchstrip between Track Seek and Hot Cues mode.
2

TOUCHSTRIP
Use this touch sensitive strip to seek playback position inside the track.
When "Hot Cues" mode is enabled, each of the 8 sections of the strip represents a Hot Cue. Touch that section to set a hot cue (if it there's no associated hot cue set) or jump to that hot cue and resume playback.
While "Hot Cues" mode is enabled, hold down the "CUE MODE" button and touch a section of the strip to delete it's associated hot cue.
3

PITCH
Controls the pitch the track.
Center is 100% pitch (or otherwise no pitch adjustement).
Move the slider to the left side to slow down the track, or to the right side to speed it up.
4

DECK SELECT
Use these buttons to determine which VirtualDJ deck will be controlled by Rane Twelve. It is not possible to control the same VirtualDJ deck with two units.
Hold the assigned deck button for more than 3 seconds to un-assign the unit from a VirtualDJ deck so that another unit can control this deck.
5

PITCH RANGE
Select one of the three available ranges for the pitch slider control.
A bigger pitch range will give you a bigger range of possible BPM matches, but the pitch slider movement will be less accurate.
6

PLATTER
High precision motorized platter for true vinyl emulation.
7

RPM
Set your desired platter rotation speed between 33 and 45 RPM (rounds per minute)
8

MOTOR SWITCH
Turns ON/OFF the motor of the platter.
While the deck is playing switch the motor off to get a classic vinyl brake effect.
9

START STOP
Press this button to start or stop the playback of the track
Connections & Options