Hardware Manuals
Recording & Microphone
No special configuration is required to record your mix with the DDJ-SR.
Simply open the MASTER center panel of the VirtualDJ GUI and click to the
REC
button (or BCAST for broadcasting) to record your mix.
The
Microphone
Input of the DDJ-SR is a
hardware input
. It cannot be control by VirtualDJ nor can the Microphone Volume knob be assigned to any action. The signal from this input is
routed directly to the Master Output
. Therefore, the Microphone input will not be recorded by default.
However. the Pioneer DDJ-SR has a dedicated Input to
record your Main Mix along with the Microphone Input,
a slight distortion may be present though, and thus this input is not used by default. If you wish to record both your mix and the Microphone/AUX Input, you will need to manually add a "record" line in the Audio configuration as followed..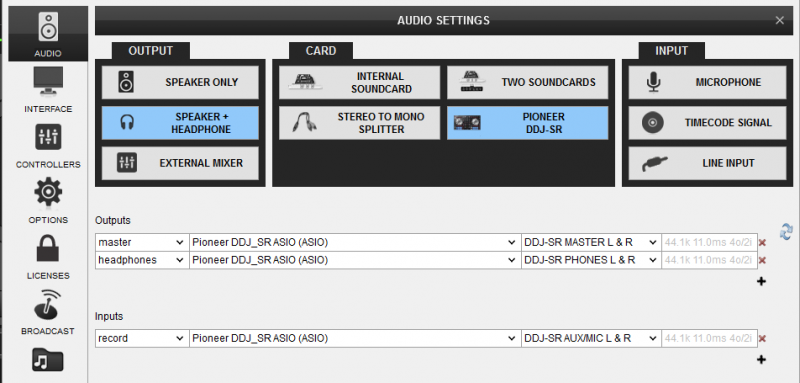 Alternative Audio Configuration for recording Main Mix and Microphone with DDJ-SR
Note
: if the record line is not present in the Audio configuration (default configuration), your Mix will be still recorded but not the Microphone Input.
---

Hardware Integration Department
2016 - ATOMIX PRODUCTIONS
Reproduction of this manual in full or in part without written permission from Atomix Productions is prohibited.