Hardware Manuals
SETUP
STEP 1 : CONNECTIONS
Connect amplifier or amplified speakers to the rear-panel Outputs of the device.

Connect your Headphones to the front panel socket using a 1/4" cable or adapter.

Connect the Allen & Heath Xone:23C to a USB port of your computer via the rear-panel USB socket, using a USB cable.

Optionally connect your DVS (Timecode Vinyl or CD) to the rear panel Inputs PHONO or LINE. See Advanced Setup - DVS

When the above connections are done, connect the Allen & Heath Xone:23C to AC and power on.

Additionally , you can connect a Xone K2 to the Xone:23C via the XLINK socket using the provided cable. See Advanced Setup.

STEP 2 : DRIVERS
Both Windows and Mac OS
: Download and install the Xone 23C
driver
and
Device software
(firmware) from
https://www.allen-heath.com/ahproducts/xone-23c/
.
STEP 3 : VirtualDJ 8 Setup
Download and install VirtualDJ from https://www.virtualdj.com/download/index.html (in case you have not done already)

Once VirtualDJ is launched, a Connect window will appear to enter your virtualdj.com account credentials.

A Pro Infinity or a Pro Subscription License is required to fully use the Xone 23C. Without any of the above Licenses, the device will operate for 10 minutes each time you restart VirtualDJ.
https://www.virtualdj.com/buy/index.html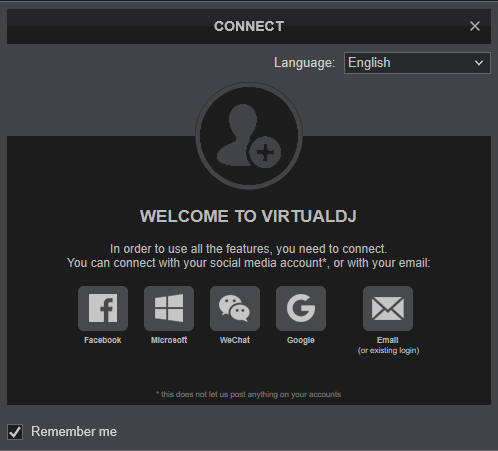 A detection window will appear when the unit is first connected with VirtualDJ, verifying proper connection.


Click on the "XONE 23C" if your speakers are connected to the Main Output at the rear side of the device.
You can still make changes in the Audio setup from VirtualDJ Settings->AUDIO tab.



Press OK.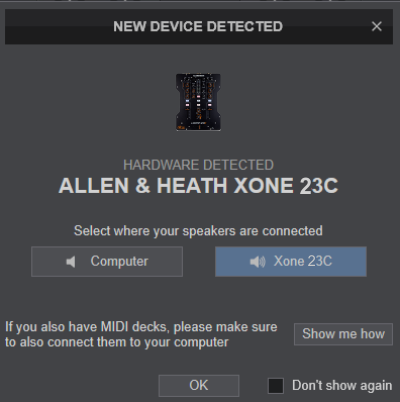 The unit is now
ready
to operate.
Controls