Forum: VirtualDJ Technical Support
Topic: Creating Filter Folders
I'd like to filter my music by genre, but in a much broader way than the default Filter Folder works - I want to create filters "genre contains", whereas the default Filter Folder for genres is "genre group by" which creates waaaaaay too many filters!

Is there a way to create a Filter Folder this way? Or do I need to create a virtual folder, and then create individual filters for my genres?
---
Posted Sun 19 Mar 23 @ 6:18 am
You can create a filter folder and one or more "genre contains" conditions.
---
Posted Sun 19 Mar 23 @ 6:54 am
The problem I'm having, is that when I add conditions, it's still creating one singular filter with either all or any of the listed attributes, not a list of filters for each of the genres I want filtered. I haven't been able to find in the documentation anywhere how to create a folder that creates a list of separate filters

genre contains Blues
genre contains Soul
genre contains R&B
genre contains Pop
genre contains Instrumental
genre contains Cover
etc, etc
---
Posted Sun 19 Mar 23 @ 7:39 am
You can create a virtual folder, and inside this virtual folder add multiple filter folders, one for each genre
---
Posted Sun 19 Mar 23 @ 7:57 am
So it sounds like Virtual Folder with individual filters *is* the needed workaround for what I want to do. A little annoying that multiple individual filters can't be placed within Filter Folders (I get twitchy about consistency within organization systems), but a Virtual Folder will get the job done.
---
Posted Sun 19 Mar 23 @ 10:14 am
I have done extensive work on quick Filters and Colour Filters for my own use. My setup is based roughly around Genre. You could base the colour around a number of plays or the 5-star rating system. Using the colour filters my total database of 47k is coloured, tunes must be added to the database to be coloured. My system also changes the colour of songs once they have been played for the length of the History setting (default 45 seconds). I have a button at the top of the browser (Already Played). On clicking that button the songs that have been played are removed from the screen, who wants to see what you've already played? You can click that button again to bring them back if you wish.

Below are some screenshots of my current setup.

Quick Filters and Colour Rules;




Played Songs (Salmon coloured);



Played Songs removed (Already Played button pressed);




Full Screenshot;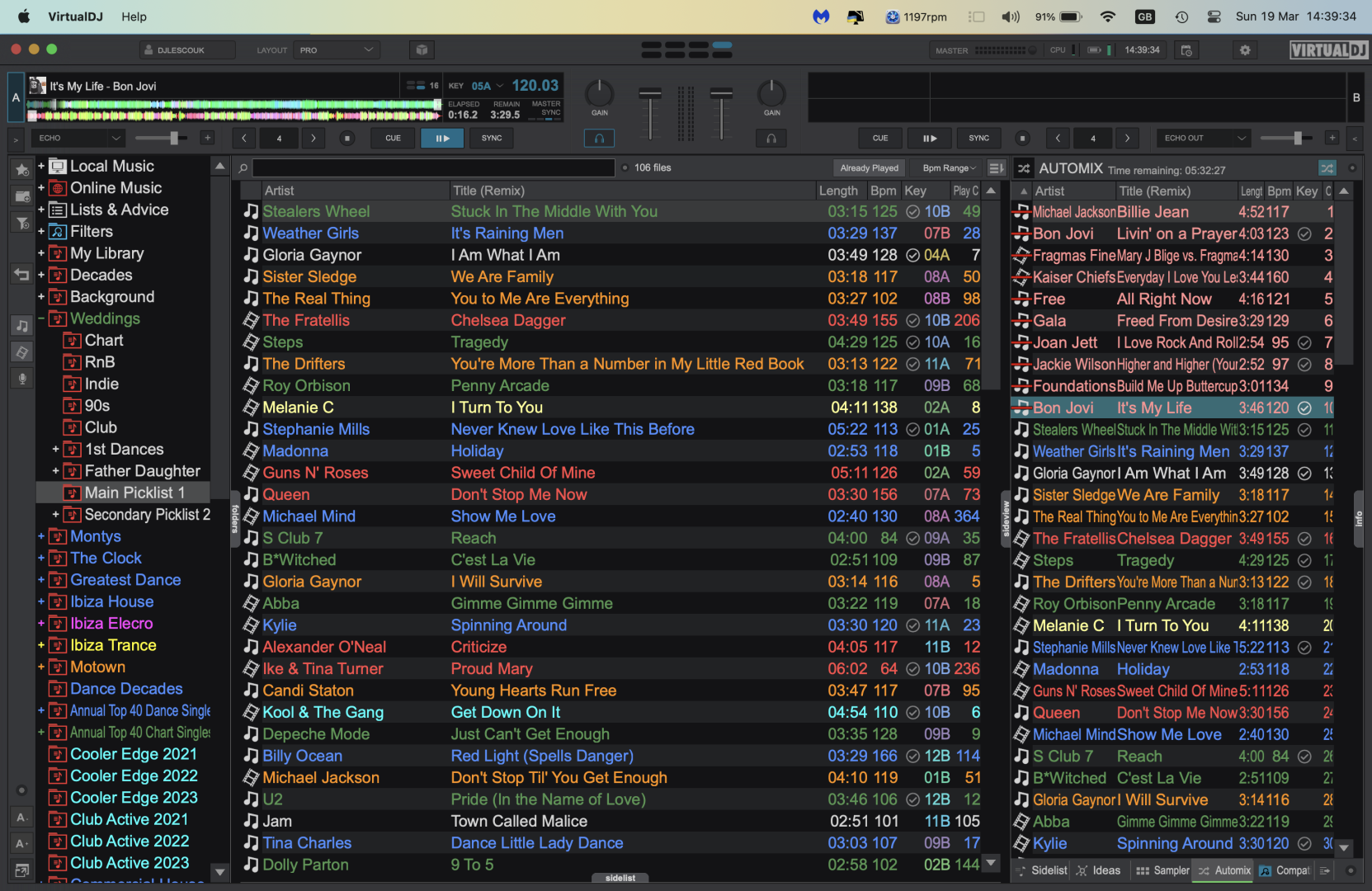 I also have a Virtual Folder called DO NOT PLAY - BAND SETLIST
If working with a band I put their setlist in that folder (if I have the tunes) or a wedding do not play list. Then I highlight them all and mark them as PLAYED which will automatically turn their colour to the Salmon colour as above. At the end of a gig shutting down the VirtualDJ session the colours will automatically return to their ORIGINAL colours. Or you can just delete all the tunes in the Virtual Folder.

If this doesn't work for you, maybe it will give you some ideas.

Have fun. :-)

---
Posted Sun 19 Mar 23 @ 3:00 pm