Q: My iTunes folder does not appear in the browser or I cannot see my iTunes playlists
---

If your iTunes Library is not displayed in the Folder List of the Browser there can be a few different possibilities for this. Please follow the below steps to ensure that iTunes is setup correctly in the application itself as well as VirtualDJ.



Make sure iTunes is a visible folder in VirtualDJ



Option 1: In the case where you may have accidentally hidden the iTunes root folder, right-click the Local Music folder and select Show: iTunes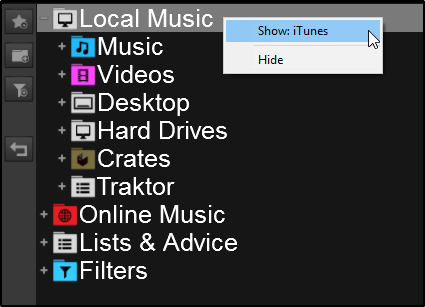 Option 2: Go to the lower right hand corner and click the dot (Browser Options) above the Font Resizer. Select Reset Root Folders. This will display any folders that you have hidden.

---
Make sure that iTunes is set to share it's library

VirtualDJ uses the iTunes Library.xml file to read your iTunes database. In iTunes 12, this xml file is not shared by default and may cause your iTunes library to not be read by VDJ.

To correct this go to Preferences Advanced and ensure that Share iTunes Library XML with other applications is checked.

After this, close iTunes completely. It will generate the XML file required by VirtualDJ and you will then be able to launch the software to have complete access to your iTunes Library.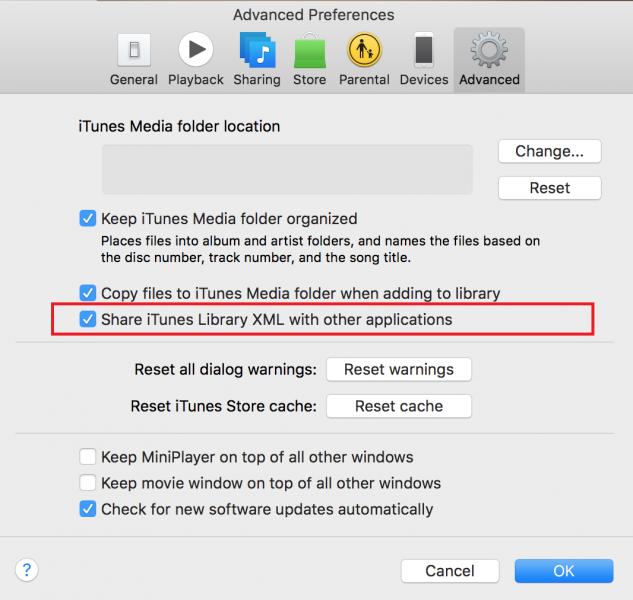 ---
Make sure that VirtualDJ knows the location of your iTunes folder

In most cases, the iTunes folder will remain in it's default location and VirtualDJ will automatically see it. In the case where the default folder path has been changed (being used on an external hard drive), then you will need to tell VirtualDJ where that location is. In VirtualDJ open Settings Options and type itunes into the search bar to display the option for the iTunesDatabaseFile. You will then be able to enter the correct path of your iTunes folder. Once completed, simply exit out of the settings menu.
---
FAQ
Knowledge Database