Hardware Manuals
Limited Edition
The DDJ-WeGO is bundled with
VirtualDJ LE
(Limited Edition). The Limited Edition has no time limit, and the DDJ-WeGO will fully control VirtualDJ.
However some features will not be available. See details here
http://www.virtualdj.com/wiki/What%20is%20the%20difference%20between%20VirtualDJ%20LE%20and%20other%20VirtualDJ%20Licenses.html
If you don't own a Pro Infinity, a Plus or a Pro Subscription license, use the following link to download and install VirtualDJ 8 LE, by entering the VirtualDJ 7 or 8 LE
Keycode
that came with your unit.
VirtualDJ 8 LE download link
:
http://virtualdj.com/le
Follow setup instructions as provided here..
http://www.virtualdj.com/wiki/VirtualDJ%20LE%20Install%20Guide.html
DDJ-WEGO LE SKIN
The tailored skin of the DDJ-WeGO will be then loaded. Depending on the body color of the DDJ-WeGO, a pre-defined background color for the WeGO skin will be automatically used.
VirtualDJ 8 – DDJ-WeGO LE skin – Red background color
The tailored skin of the DDJ-WeGO is also available for download from our Add-ons page
http://www.virtualdj.com/plugins/index.html?addonid=80152
for the users who own a License and need to use this skin without installing VirtualDJ 8 LE.
---

Use the
COLOR
button at the top of the skin to change the background and the Jog to a color of your selection.
Note that the selected color for the background of the skin will not be affected or affect the selected color of the Jog illumination of the DDJ-WeGO, and the color selections will be saved across sessions.
---
Use the
2-4 DECKS
button to toggle between the 2 and 4 Decks View.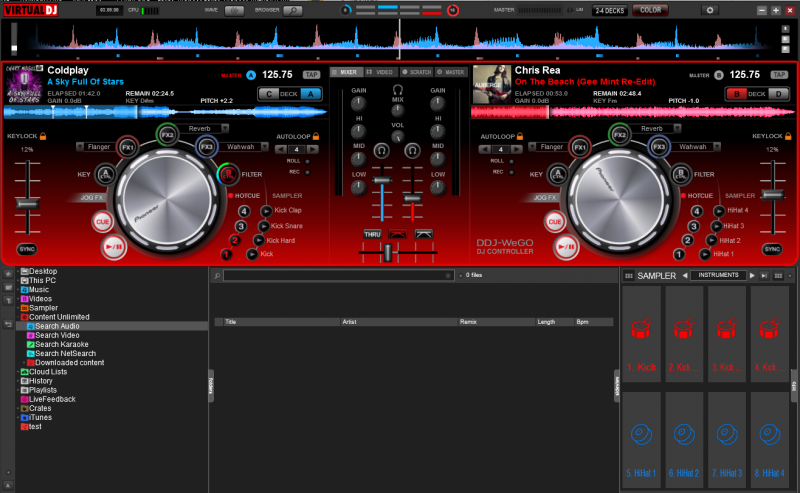 2 Decks view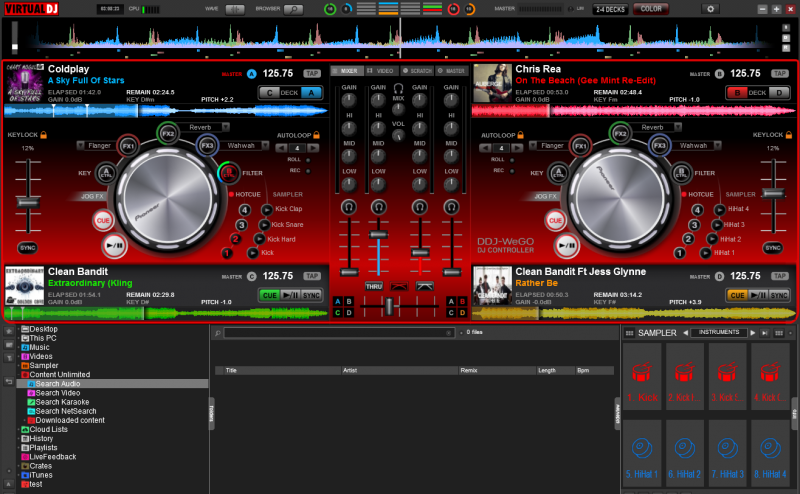 4 Decks view

Use the
BROWSER
button at the top of the skin to toggle between the normal decks and Browser Zoom views.
This operation is also available with the BROWSE (8) knob when pushed.
The
WAVE
button offers a menu to select a different type for the Waveforms.
All the DDJ-WeGO operations assigned to the knobs and buttons are projected on the GUI and the GUI can control the same operations as well.
Additional features are provided, such as Loop Roll mode, record deck/master to a new Sample, Keylock, Pitch-range, manual beat-tap etc.
---

Hardware Integration Department
2016 - ATOMIX PRODUCTIONS
Reproduction of this manual in full or in part without written permission from Atomix Productions is prohibited.