Hardware Manuals
LIMITED EDITION
The Numark PartyMix Pro comes bundled with VirtualDJ 8 LE (Limited Edition) which allows you to fully control VirtualDJ with your PartyMix Pro right out of the box with just a few
limitations
Obtain your VirtualDJ LE keycode
Usually the Keycode (serial) of the VirtualDJ LE is printed either on the sleeve of the VirtualDJ LE CD or at the bottom of the unit. In case of the PartyMix Pro (and other Numark Products), the Keycode needs to be obtained from Numark's website via a Product registration procedure.
Obtain your VirtualDJ LE keycode (serial) from Numark website.
Visit https://www.numark.com/ and click on My Account or directly visit https://www.numark.com/my-account


Login with email and password if you already have a Numark account or create one


Once logged in, Click on the Register Product button at the left side of the window


Register your product by selecting the PartyMix Pro from the Products's lit and providing the serial number of the unit (usually at the bottom of the unit starting with (21), along with all the other purchase information and finally click on the SUBMIT REGISTRATION button.


In the next page, you will then be able to see your VirtualDJ LE keycode that has the form XXXX-XXXX-XXXX/XXXX. Write that code down or copy that to Clipboard.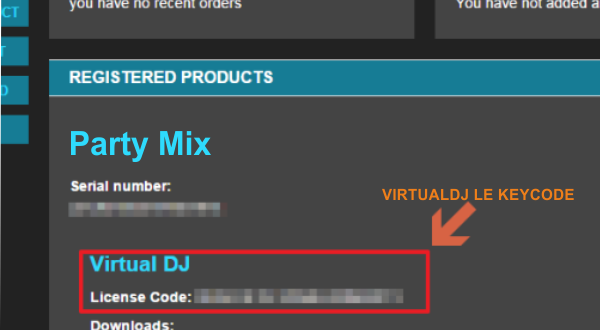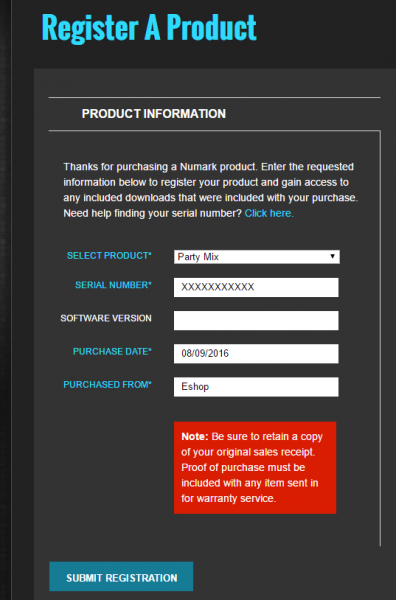 VirtualDJ LE Setup
Download and
install VirtualDJ LE
from our
Limited Edition Download page
http://www.virtualdj.com/le/
by entering (pasting) your
LE Keycode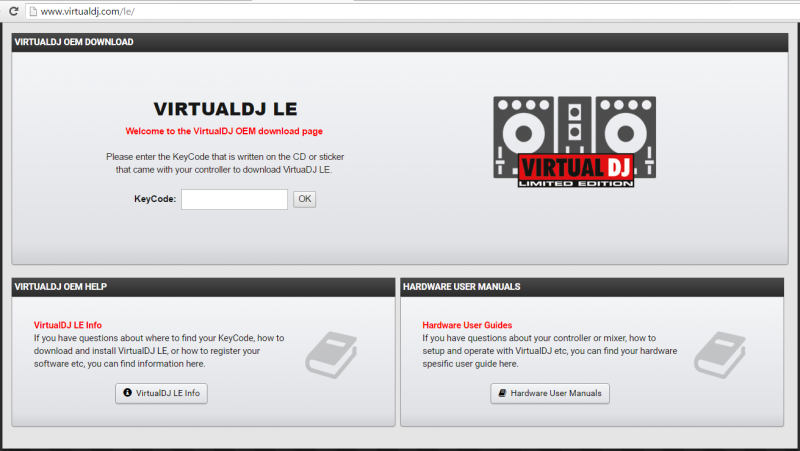 Find a detailed installation and setup procedure at
http://www.virtualdj.com/wiki/VirtualDJ%20LE%20Install%20Guide.html
A tailored skin is available for the Numark PartyMix Pro offering a perfect match between the Hardware and VirtualDJ functionality. The skin is installed along with the VirtualDJ LE (from
http://www.virtualdj.com/le/
).
If you already have VirtualDJ installed and wish to use the tailored skin without installing the Limited Edition, you can download the skin from
http://www.virtualdj.com/plugins/index.html?addonid=80658
Note : The tailored skin is not necessary for the unit to operate, neither adds any functionality to the Hardware.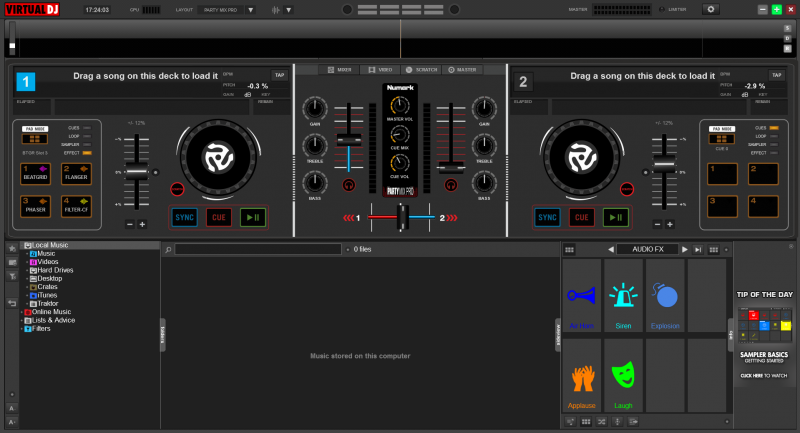 Numark PartyMix Pro Tailored skin
Advanced Setup