Hardware Manuals
ADVANCED SETUP
MIDI MAPPING
The unit should be visible in the CONTROLLERS tab of Config and the "
factory default
" available/selected from the Mappings drop-down list. The factory default Mapping offers the functions described in this Manual, however those can be adjusted to your needs via VDJ Script actions.

Read further details at
http://www.virtualdj.com/manuals/virtualdj8/settings/controllers.html
http://www.virtualdj.com/wiki/VDJ8script.html
AUDIO Setup
Default Audio setup
The unit has a
pre-defined
Audio setup and a
special button
in the AUDIO tab of Config to provide that.
If the pre-defined audio setup is selected, speakers and Headphones need to be connected to the unit at the rear and front side panels respectively.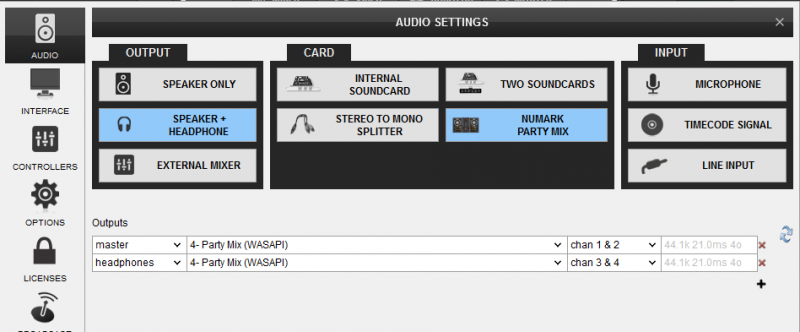 Alternative Audio setup
No Speakers available to connect.
In case no speakers are available to connect to the Party Mix and wish to listen through the built-in speakers of your computer, you will need to manually apply the following audio configuration.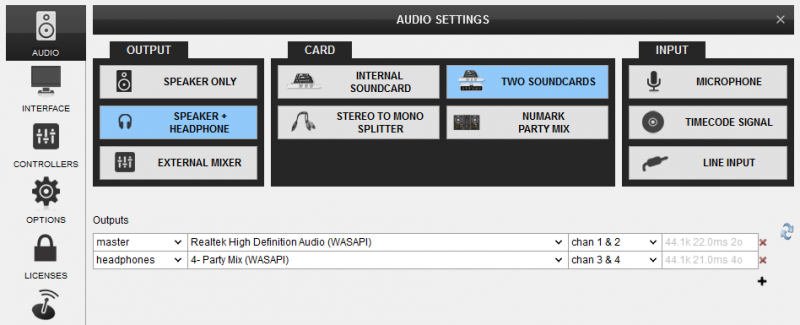 Select the
built-in sound card
of your computer for the
Master
(on Chans 1,2) and the
Party Mix
sound card for the
Headphones
(at Chans
3,4
)
Click to
APPLY
Note : The Headphones channel in this case will be still routed to the front socket of the Party Mix for you to connect your Headphones for pre-listening
For further software settings please refer to the User Guide of VirtualDJ 8.
http://www.virtualdj.com/manuals/virtualdj8/index.html
---
For further Technical features and specifications, visit
Numark PARTY MIX

Product's Page
---

Hardware Integration Department
2016 - ATOMIX PRODUCTIONS
Reproduction of this manual in full or in part without written permission from Atomix Productions is prohibited.