Hardware Manuals
BROWSER SETTINGS
A
special DASHBOARD Pads page
will be available when the Dashboard unit is connected. The page can be selected from the Pads selection drop-down list from the VirtualDJ default skins or any other custom skins that provide Pads support..
This special page will provide the ability to
adjust the content of the Browser columns
on the LCD screens. The selections are saved across sessions and only apply to the Browser view of the Dashboard Displays and not the Browser of VirtualDJ.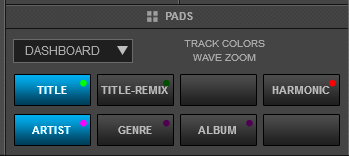 Dashboard Page - VirtualDJ default skin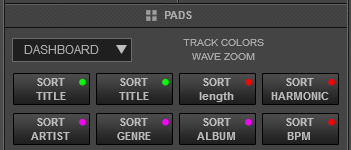 Dashboard Page when SHIFT is pressed from a controller - VirtualDJ default skin
Use Pads
1 or 2
(green pads) to display
Title
or
Title (Remix)
in the
1st column
of the Files Browser view on the LCD screens of the unit
Use Pads
5, 6 or 7
(purple pads) to display
Artist, Genre or Album
in the
2nd Column
of the Files Browser view
Use Pad
4
(red pad) to display
Harmonic, Key or Key Difference
in the
3rd Column
of the Files Browser view when the Key column is selected (via SHIFT+VIEW button)
Hold
SHIFT
down and then use the Pads to
sort Columns 1, 2 and 3 alphabetically
in ascending on descending order, depending on the selected field of each Column.
Use
1st Parameter
arrows <> to choose between displaying the Tracks with the assigned colors, or displaying Played tracks in red and un-played tracks in white.
Use
2nd Parameter
arrows <> to select a Zoom level for the on-screen waveforms
Notes :
- The Dashboard page can be selected from the Pads Page drop-down list of the GUI, but you may also assign any button as
pad_page 'Dashboard'
to perform this action
- The actions assigned to the Pads of this page, can be controlled from both the GUI or any other MIDI controller that supports Pads
---
For further Technical features and specifications, visit
Numark Dashboard

Product's Page
---

Hardware Integration Department
2016 - ATOMIX PRODUCTIONS
Reproduction of this manual in full or in part without written permission from Atomix Productions is prohibited.