Hardware Manuals
MIXER MODE
Press the top
DEVICE
button, to set the device to
Mixer mode
and get controls for Volume, Equalizer, EQ kills etc.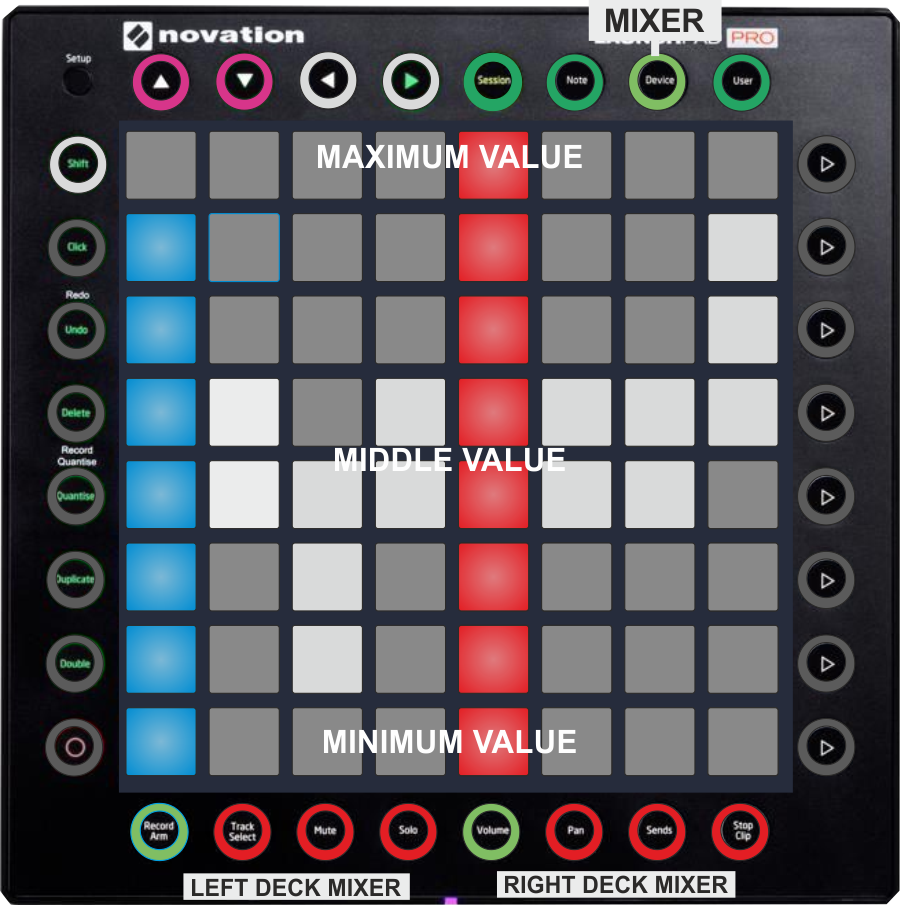 PADS
Press a pad inside a column to gradually adjust the left/right deck's volume or Equalizer band. The speed that the value will increase/decrease, depends on the velocity (how hard the pad was initially pressed). See
Advanced Setup
The leds for Columns 1 and 5 represent the Volume of left/right assigned decks and will get the deck's color (green for deck 3, orange for deck 4) in a "volume-style" pattern.
The leds of the other columns represent the Equalizer bands values of left/right assigned decks, will always use white color and the "pan-style" pattern. When both middle leds (4th and 5th row) are lit, the value is set at 50% (centered Equalizer)
KEY
ACTION
SHIFT ACTION
1

PADS COLUMN
Adjust the Volume of Left deck
2

PADS COLUMN
Adjust the High Equalizer band frequencies of Left deck
3

PADS COLUMN
Adjust the Mid Equalizer band frequencies of Left deck
4

PADS COLUMN
Adjust the Low Equalizer band frequencies of Left deck
5

PADS COLUMN
Adjust the Volume of Right deck
6

PADS COLUMN
Adjust the High Equalizer band frequencies of Right deck
7

PADS COLUMN
Adjust the Mid Equalizer band frequencies of Right deck
8

PADS COLUMN
Adjust the Low Equalizer band frequencies of Right deck
TOP BUTTONS
KEY
ACTION
SHIFT ACTION
T1

ARROW UP
Select the previous available Mixer panel in the default VirtualDJ GUI (Audio mixer, Video, Scratch panel and Master panel)
T2

ARROW DOWN
Select the next available Mixer panel in the default VirtualDJ GUI (Audio mixer, Video, Scratch panel and Master panel)
T3

ARROW LEFT
Moves the Crossfader to the left by 5% each time its pressed. Hold down to repeat the movement every 100 ms
Moves the crossfader to the far more left position
T4

ARROW RIGHT
Moves the Crossfader to the right by 5% each time its pressed. Hold down to repeat the movement every 100 ms
Moves the crossfader to the far more right position
T5

SESSION
Selects the Sampler (default) mode
T6

NOTE
Selects the Effects mode mode
T7

DEVICE
Selects the (current) Mixer mode mode
T8

USER
Selects the User's mode mode
LEFT BUTTONS
KEY
ACTION
SHIFT ACTION
L1

SHIFT
Press and hold down to access secondary actions, as described in the SHIFT ACTIONS column
L2

το

L8
Not assigned
RIGHT BUTTONS
KEY
ACTION
SHIFT ACTION
R1

το

R8
Not assigned
BOTTOM BUTTONS
KEY
ACTION
SHIFT ACTION
B1

RECORD ARM
Sends audio signal of Left deck to the Headphones channel for pre-listening (PFL)
B2

TRACK SELECT
Kill High Equalizer Band on Left deck
B3

MUTE
Kill Middle Equalizer Band on Left deck
B4

SOLO
Kill Low Equalizer Band on Left deck
B5

VOLUME
Sends audio signal of Right deck to the Headphones channel for pre-listening (PFL)
B6

PAN
Kill High Equalizer Band on Right deck
B7

SENDS
Kill Middle Equalizer Band on Right deck
B8

STOP CLIP
Kill Low Equalizer Band on Right deck
User mode