Hardware Manuals
ADVANCED SETUP
X:LINK
You can connect a Xone K2 directly to your computer via the USB port,
or
via X:LINK to another compatible Xone device. Do not use both connections.
There are 2 X:LINK sockets at the rear panel of the Xone K2, to chain more Xone series devices.
If you need to connect 2 or more Xone K2 devices and use in VirtualDJ, you will need to connect them via USB to your computer, or else all devices will control the same VirtualDJ Decks and offer the same functionality.
If you connect a Xone K2 to a Xone compatible mixer (43C or 23C) via X:LINK, VirtualDJ will not detect Xone K2 as a separate MIDI device, but its MIDI functionality and customization will be available through the Xone 43C/23C device.
AUDIO SETUP
The following image displays the default Audio setup for the Xone K2, which requires speakers and Headphones to be connected at the rear and front panels respectively.
Note that the USB Audio interface (sound card) - or the special XONE K2 button - will not be available in VirtualDJ Audio Setup if the Xone K2 is connected via LINK to a compatible Xone mixer.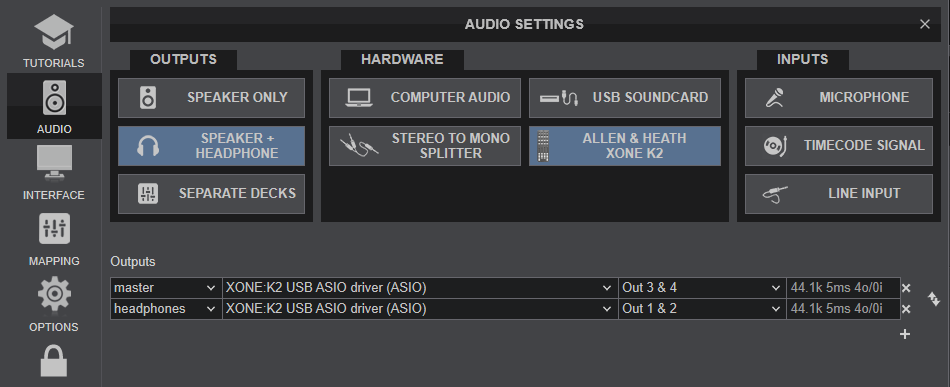 MIDI SETUP
The Xone K2 should be visible in the MAPPING tab of VirtualDJ Settings and the "factory default" available/selected from the Mappings drop-down list.
The factory default Mapping offers the functions described in this Manual, however those can be adjusted to your needs via VDJ Script actions.
Find more details at
https://www.virtualdj.com/wiki/VDJ8script.html
Mapping related Notes
:
The Xone K2 device will not be offered as a connected Hardware in this page, if the Xone K2 is connected via X:LINK to a compatible Xone Mixer.

There are 2 kind of MIDI keys offered in factory Mapping, named as K22D and K24D (stand for K2 2 Decks and K2 4 Decks), depending on the value of the keys named as 2DECKS and 4 DECKS. If you need to assign a key with an action and keep this along both modes, you will need to assign both K22D_ and K24D_ keys.

If you wish the 2 modes not be related to the skin layout, you can assign the 2DECKS and 4DECKS to different query, as long as they don't return true/false on same conditions.


Note
Starting from VirtualDJ 8.5 (Build 6464) the factory default mapping has been highly improved/ modified, thus Custom Mappings created before this Build will not properly operating. We strongly advise you to start your own Custom mapping based on the default one, however if you need your old Custom mapping to work, please contact our Support.
LATCH LAYERS & MIDI CHANNEL
The Xone K2 offers the ability to select a different MIDI Channel and Latch Layer. Please note that for VirtualDJ, the device needs to be on the default
MIDI Channel 15
and
Latch Layer Off.
Please refer to the Allen & Heath Xone K2 Manual to set the device as above.
---
For further Technical features and specifications, visit
Allen & Heath Xone:K2

Product's Page
---

Hardware Integration Department
2021 - ATOMIX PRODUCTIONS
Reproduction of this manual in full or in part without written permission from Atomix Productions is prohibited.