Hardware Manuals
PADS - SAVED LOOPS
While the Manual Loop mode is selected, press the same
MANUAL mode button again
to set the PADs to
Saved Loops mode
(led will blink). The Pads section of the default VirtualDJ GUI on the corresponding deck will be also set to the Saved Loops pad page.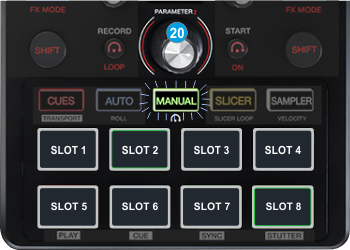 Saved Loop mode - AFX
Each pad offers the ability to
store and trigger a Saved Loop
. Up to 8 Loops can be stored, but only 1 can be enabled/triggered. Press a pad to
store
(and enable) a loop of the currently selected size in beats at the current track's position. If a slot is stored/saved, press the same Pad to
load and prepare
the loop but not jump to its position if its later to the current.
Hold
the same Pad for more then 1 second to
delete
the stored loop.
Saved Loop Pads Page - VirtualDJ GUI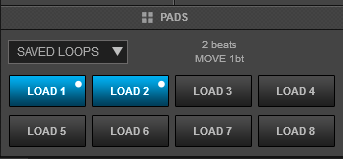 Saved Loop PADS page when SHIFT is pressed on the AFX
Hold
SHIFT
and then use the same Pad to
load
the same Loop but also jump to its position.
The LEDs of the Saved Loops Pads will be turned on white by default. Custom colors can be selected from the POI Editor.
The
PARAMETER
(20) encoder will control the
size
(half/double) and trigger the selected loop if pushed. Hold
SHIFT
and then use the encoder to
move
the loop forward/backwards
by 1 beat
The LCD display will indicate the size the selected Loop in beats.
Slicer