Forum: VirtualDJ Technical Support
Topic: Remote for Pixel 7 Pro
I have a Pixel 7 Pro, but am told that the Remote App isn't available for it. It seems to be available for my earlier Android Phones though. Can you pretty please make it available? Handy if I need to take a quick break.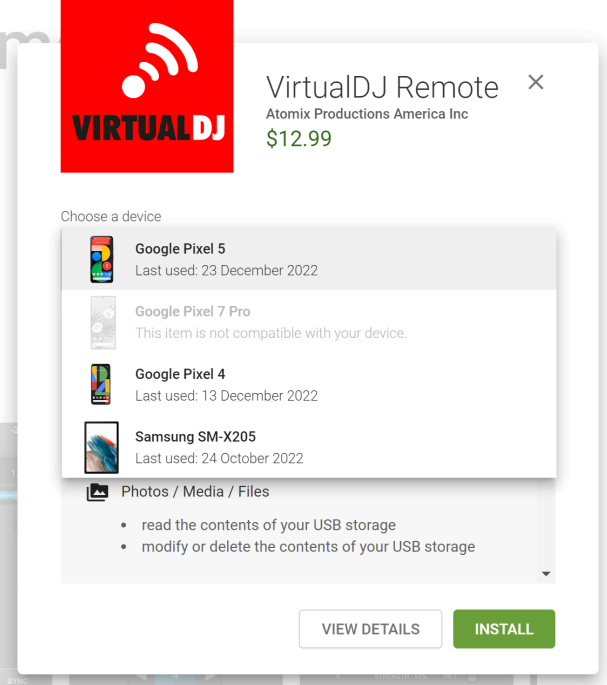 ---
Posted Tue 21 Feb 23 @ 1:59 am
me too... hope they keep the pace with new phones. aftel all we paid 300$ for the software
---
Posted Wed 17 May 23 @ 8:17 am
It does not work on my old samsung galaxy s10 neither..
I really want that control. any idea?
---
Posted Wed 17 May 23 @ 7:31 pm
Pretty sure you could get the APK from another site like apkmirror and sideload it to get past the play store restrictions
---
Posted Thu 18 May 23 @ 6:23 am
There are heaps of mirror sites, but even on those I don't think they're the legit VirtualDJ Remote app - they seem to be just random developers copying VirtualDJ's logo & colours.

It's a real shame we're having to resort to mirrors and consider piracy, because we really just want to pay and remotely press play (even if it's fairly old/basic).

Even if they have stopped working on it, they could at the least say they're retiring it. You spend money & invest time in new software and then you find all these 'add on extras' aren't what they're ramped up to be.
---
Posted 2 days ago @ 6:09 am
There is a new version in development at present.
---
Posted 2 days ago @ 6:57 am