Forum: Video Discussion
Topic: Video skins integrated with Twitch?
Hello, I currently use the For Broadcast video skin to stream on Twitch, but it doesn't engage my audience like other music DJs are able to do. Specifically, there doesn't appear to be any integration with Twitch emotes or any way to highlight new followers or subscribers. Do I need to install OBS or Streamlabs between VirtualDJ and Twitch to get this functionality? Is it easy to send VirtualDJ's video skins to OBS software? Thank you for your help!
---
Posted Wed 31 Aug 22 @ 4:21 am
Use OBS ;)

---
Posted Wed 31 Aug 22 @ 10:08 am
The videoskins are automatically included since they are part of the VDJ video output
The chat functions and so on is also automatic since Twitch is handling all that
So for stance my test stream right now using only VDJ and Twitch, looks like this: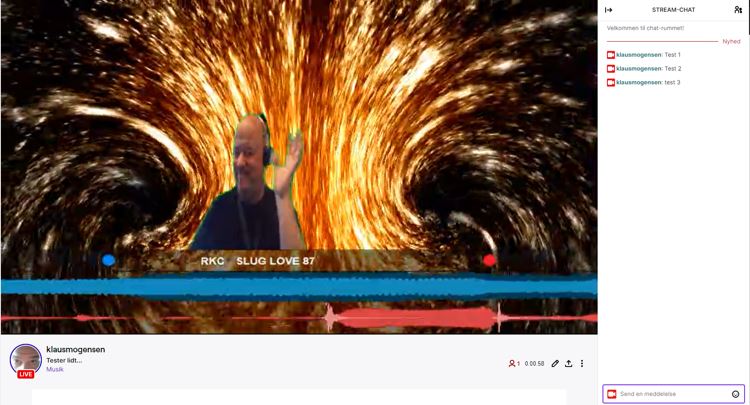 ---
Posted Wed 31 Aug 22 @ 11:22 am
The OBS overlays usually work by allowing a web page URL to be layered over the top of the video output.

Unfortunately VDJ doesn't have layers (apart from the videoskin).

This has previously been asked for, to benefit streamers, but so far no action from Atomix.

OTOH it really isn't necessary to have all that stuff going on over your video output. It can distract from the content. Many streamers simply use one static camera facing them, and that's it.

Personally I use various preset graphics and text from the sampler or text plugin, to manually overlay when required. Just keep an eye on the chat and trigger from a pad.
---
Posted Wed 31 Aug 22 @ 4:58 pm


OK, thank you for that. I tried Streamlabs, but I can't get it to capture VirtualDJ's video skin that I've chosen. Instead, Streamlabs captures the Essentials desktop I use for mixing, but I don't want my viewers to see that. How do I make Streamlabs capture VirtualDJ's video skin?

Also, Streamlabs keeps asking for a mic input, but I use a mic with VirtualDJ. When I send audio to Streamlabs, does it strip out the mic input? I've read that some streamers have a problem with this.

Thanks again for your help!
---
Posted Mon 05 Sep 22 @ 6:52 pm