Forum: VirtualDJ Technical Support
For some reason, I cannot select any Jpg for slideshows anymore. So now if there is no music video playing, I just get a black screen as I can't select a folder of slides.
Anyone know of a fix?
---
Posted Sun 19 Dec 21 @ 9:39 pm
Nobody else had this experience then?
---
Posted Tue 04 Jan 22 @ 2:51 pm
Works fine here.

You have Slideshow selected as "video Source" ?
VideoAudioOnlyVisualisation in Settings->OPTIONS says "Slideshow" ?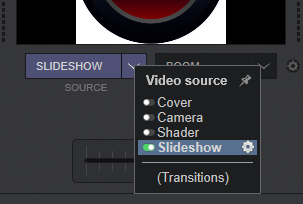 If u click on the cog icon next to Slideshow, you should get the FX GUI at the right side of Browser and a button to select Folder. Doesnt this work for u ?
---
Posted Wed 05 Jan 22 @ 1:42 pm
Cheers for the reply and sorry for the delay in mine.
I've changed the videoAudioOnlyVisualisation to Slideshow and also tried to select slideshow in the video FX panel. When I go to chose the folder, all the jpg files are greyed out whereas before they were selectable.
Still can't select any slides to play when there are no music videos playing....
---
Posted 6 days ago @ 12:14 am
Dunno what I did but all sorted now.
---
Posted 5 days ago @ 4:02 pm