Forum: VirtualDJ Technical Support
Topic: DENON SC5000M NEW MOTOR OSCILLATION AND SPEED ALTERATION PROBLEMS
Hi,

Sorry, but continuing to testing the latest beta versions until I can make sure that everything is correct with the integration of the Denon SC5000M (SDK) and VDJ, before proceeding to the purchase or subscription of the application.

In the short time I have had today to test the latest beta BUILD 6263 (2021-01-20), I have tried to start the "Logitech Capture" software of the Logitech StreamCam Plus Full HD USB-C webcam, in order to make a little streaming test.

I attach videos so that you can observe what happens in the variations and alterations of speed in the Denon SC5000M device's motor when the application is starting. I can't believe or imagine that starting the application can interfere with the speed of the drive's hardware motor.

https://youtu.be/MW4AF6ymcZg
https://youtu.be/xlIp9DCuppE

My specs are:
MSI laptop System model GE62 6QD
Intel (R) Core (TM) i7-6700HQ CPU @ 2.60GHz
Microsoft Windows 10 Pro Version 10.0.19041 Build 19041
Integrated Graphics Card Intel Graphics 530 and dedicated NVIDIA GeForce GTX 960M


I remain at your disposal for any clarification. Thank you.
---
Posted Thu 21 Jan 21 @ 8:12 pm
jatoro wrote :

I have tried to start the "Logitech Capture" software




Why? You don't need to run that software to stream with VDJ.


---
Posted Thu 21 Jan 21 @ 8:35 pm
Yes, maybe I have explained wrong. My native language is not English.

I need the software for 2 reasons:
1) Because I want to do direct through Facebook or YouTube, in which I can be seen playing music.
2) This application is the one that connects and configures my Logitech webcam with other software such as OBS through its control panel.
---
Posted Thu 21 Jan 21 @ 9:38 pm
---
Posted Thu 21 Jan 21 @ 10:54 pm
Well @groovindj,

Thanks for your help, I already knew that utility, but the problem persists, since the origin is the special way of working of this camera.

I will now try to do my best to illustrate the problem as much as possible to see if I can make you understand it better.

The webcam that I use, as you may have read, is a camera of an acceptable brand and quality: Logitech StreamCam Plus Full HD USB-C, has the peculiarity that to use it the Logitech Capture software must be started. This software acts as a plugin, source, or whatever we call it. Here's an official video from Logitech explaining:
https://youtu.be/IhhoCcyFTzQ

Therefore, according to the above, if I do not have the software started before trying to stream from VDJ, on my YouTube channel, when I start the transmission I get the following screen: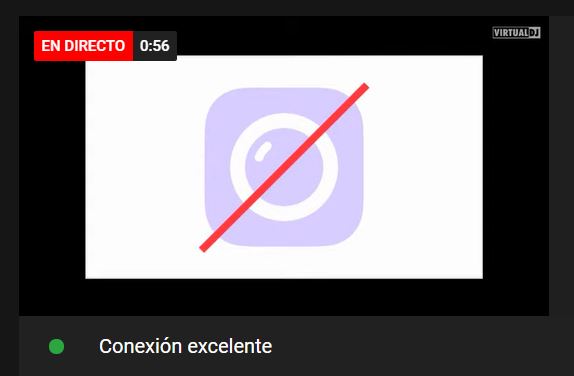 Similarly, if I wanted to use the camera as a video source on the mixer screen, when trying to select the source, if this software is not started, I have the same problem: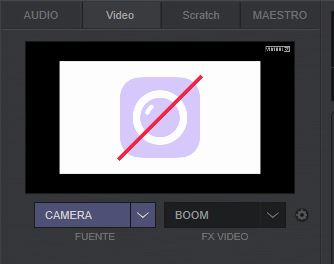 I hope that you now understand well the bottom and nature of the problem. Thank you.
---
Posted Fri 22 Jan 21 @ 8:07 am
jatoro wrote :

the peculiarity that to use it the Logitech Capture software must be started




Are you 100% certain about that? The Logitech video does not say you need to use the capture software.

I have also watched reviews of the camera, and people seem to be using it directly in OBS for example.


---
Posted Fri 22 Jan 21 @ 1:43 pm
Well, at this point in the conversation, @groovindj, I have the impression that you are trying to avoid by any ways possible investigating, either by yourself, or by the VDJ development team, the interference between starting Logitech software and immediately oscillation on the engine speed of Denon SC5000M units.



groovindj wrote :

Are you 100% certain about that? The Logitech video does not say you need to use the capture software.



I do not understand why you question and ask me again if I am sure that it is necessary to use this software.

You do ensure "The Logitech video does not say you need to use the capture software."

If you find another way to use these cameras as a video source on the Logitech page, please let me know.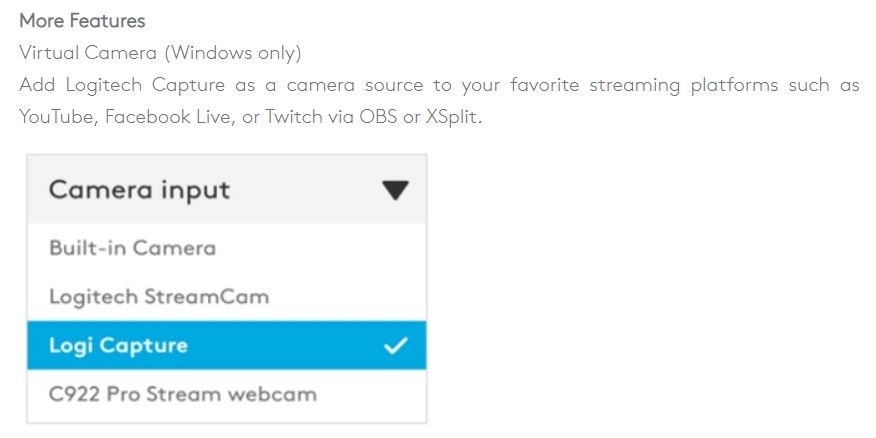 https://support.logi.com/hc/id/articles/360043221373

What is really true is that the Virtual DJ software is unable to activate it and use it in any other way. It was demonstrated with the screenshots that I contributed.

And yes, it is true that OBS activates the camera without launching the Logitech Capture software, but the question is:
Would you prefer a native ASIO audio driver or use ASIO4ALL?

By the same reasoning, this Logitech Capture software was designed to act natively on the camera, change resolution, fps and other parameters, as well as update firmware that the OBS module as free software cannot perform. Although my highest credit to OBS development team.

If the official VDJ team (which by the way, has not yet spoken), is not interested in discovering why this failure occurs, then let's just leave it alone. My idea was just to help with beta testing.
---
Posted Fri 22 Jan 21 @ 6:29 pm
Hi,

I continue to test the new beta versions searching a fix for this topic problem. Specifically today's BUILD 6280 (2021-01-27).

I have just verified that the problem of interference in the motor speed of my Denon SC5000M unit does not occur only when opening Logitech Capture, but with some other applications such as Chrome or Microsoft Edge, as shown in the video in the following link.

https://youtu.be/1EoHaWnf0XM

Please i beg you depelopment team to tell me if it is a bug in the application or the unit, since I do not understand how just when opening applications simultaneously to Virtual DJ, it produces this effect of speed oscillation by accelerating or slowing down.

I am waiting for an answer. I hope I can be of help. Regards.
---
Posted Wed 27 Jan 21 @ 9:21 pm
Opening these other applications could cause the MIDI messages from the motor to be delayed and delivered to VirtualDJ too late.
During this time VirtualDJ has to assume that the motor has stopped, so will start slowing down playback.

Usually midi messages should have a higher priority, so it will depend on computer speed but also motherboard/drivers and what the other application is doing if this will affect them or not.
---
Posted Thu 28 Jan 21 @ 5:02 am
Hi Adion, thanks for your answer.

I, until the day that the full integration and native support came out through the sdk supplied by Denon, have been and continue to use Serato and Traktor (preferably the latter).

I have been doing tests and I continue to test each and every one of the betas to make sure that the VDJ works with my Denon SC5000M motorized units is perfect, efficient and optimized, no issues occurs, before proceeding to the purchase of a license or subscription.

My intention after the big work by VDJ in conjunction with Denon is to acquire Virtual DJ, to work with my 2 Denon units and the great advances that VDJ has had in last years, which do a more reliable job in analyzing the tracks, sound quality, etc. than Engine OS and, of course, similar to Serato or Traktor (and better or including features that the others don't have).

My question is ...that given the characteristics of my computer (indicated in the first message of this post), having all the drivers updated until today, and with the computer without background applications that may interfere with performance, in such a way that following the optimization instructions indicated in https://www.virtualdj.com/wiki/PC%20Optimize.html, DPC Latency Cheker and Latency Monitor says "This machine should be able to handle real-time streaming of audio and/or video data without drop-outs", like show in screenshots: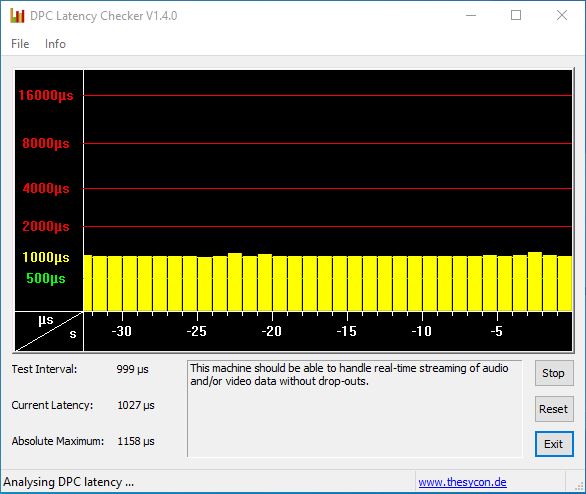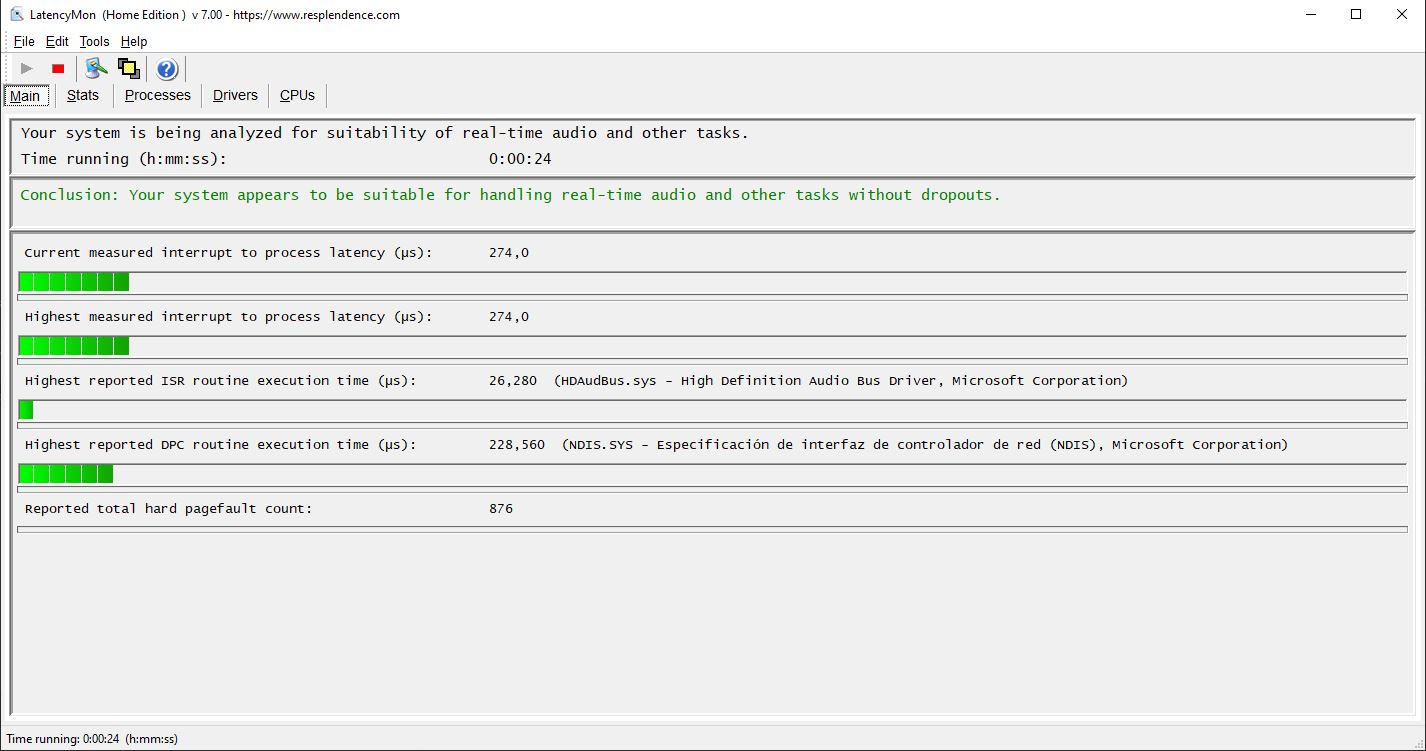 In the test seen in my YouTube video, there is only one Denon SC5000M unit connected to the laptop. The audio comes out of the computer.

On the other hand, applications such as the Chrome or Edge browser, in my humble opinion, I do not believe that they are applications that consume so many resources as to interfere with the performance of the computer and, therefore, in the midi messages.

Or, excuse me, what could really happen is that the resource consumption both at the CPU and RAM level that the management and handling of the Denon SDK takes to VDJ is huge?

What do you recommend that I should do to be able to use Virtual DJ with my 2 Denon SC5000M motorized units?
I am willing to reinstall windows 10 from 0 on the computer, although I don't know if what you are telling me is to buy a new computer.

With what features, which will guarantee me optimal performance without interference in midi messages?

I stay waiting for an answer. Thanks for your help and support.
---
Posted Thu 28 Jan 21 @ 7:26 am