Forum: Addons
Topic: Pioneer DJM-S9 FXBanks
---
Posted Tue 10 Jan 17 @ 11:39 pm
How to use.

By default the 2 FX Banks are pre-defined as ..
- Bank A : Echo, Flanger, Phaser
- Bank B : Reverb, Beatgrid, Distortion.

Use SHIFT+SAMPLER FX ON on your DJM-S9 to load FX Bank A
Use SHIFT+AUX FX ON on your DJM-S9 to load FX Bank B

To edit the FX Banks ..
- Open the DJM-S9 FxBanks GUI from MASTER Panel (the Effect is in the AutoStart folder)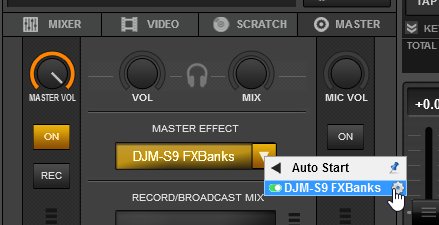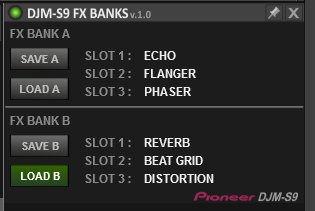 - Use SHIFT+FX1 to SHIFT+FX3 doftware Effect buttons on your DJM-S9 to select the desired Effects for the 3 available Slots

- From the FX GUI, click to SAVE A/B buttons to save the new selected effects to either Bank A or B.

---
Posted Wed 11 Jan 17 @ 1:00 am
I had a thought about the fx banks and it applies here too, the fx doesn't need to be active to do what it does but what about if it is made active it performs its load action and then turns itself off, granted there's the pads and you can still do it from the fx gui but once user has learnt their banks it's a quicker workflow.
---
Posted Wed 11 Jan 17 @ 4:56 am
This special version of the original fxbanks add-on is a bit different. Reason needs to be activated , thus it's installed to the auto start folder, is that the djm unit needs to read the status of the selected effects from the add-on in order the indicators on the lcd screen to display A or B in case the saved banks are loaded, so the add on constantly reads the status of the selected effects on the slots

In other words, if you load FX Bank A from djm, the Load A fx button returns true and the led of LCD of the unit is turned on, but as soon as you select a different effect for a slot from the unit, the add-on reads the change and returns false for the same load button

---
Posted Wed 11 Jan 17 @ 5:23 am
Ok I see, the suggestion stands for the original, just not this variety.
---
Posted Wed 11 Jan 17 @ 5:30 am
---
Posted Thu 12 Jan 17 @ 10:36 am
---
Posted Tue 24 Jan 17 @ 3:02 pm
---
Posted Tue 24 Jan 17 @ 3:13 pm