Hardware Manuals
PADS
The 4 top performance pads P1 to P4 offer different functionality depending on the selected mode. Hold down the PAD MODE button (21) and then press one of the Pads P1 to P3 to set the Pads to
Manual Loop
,
Auto Loop
or
Sampler mode
.
Each time a Pad mode is selected for the top Pads, a
special page
will be selected and displayed in the
Pads section
of the default VirtualDJ GUI.
The lower Pads P5 to P8 offer
Hot Cues
1-4 control regardless the selected mode.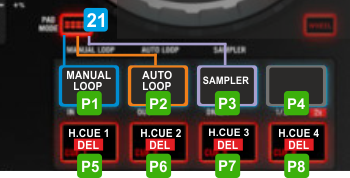 KEY
ACTION
21

+

P1
Set Pads 1 to 4 to Manual Loop mode
21

+

P3
Set Pads 1 to 4 to Auto Loop mode
21

+

P2
Set Pads 1 to 4 to Sampler mode
HOTCUES
KEY
ACTION
SHIFT (SECONDARY) ACTION
P5

CUE 1
Assigns or jumps (if assigned) to Hot Cue 1
Deletes Hot Cue 1
P6

CUE 2
Assigns or jumps (if assigned) to Hot Cue 2
Deletes Hot Cue 2
P7

CUE 3
Assigns or jumps (if assigned) to Hot Cue 3
Deletes Hot Cue 3
P8

CUE 4
Assigns or jumps (if assigned) to Hot Cue 4
Deletes Hot Cue 4
MANUAL LOOP MODE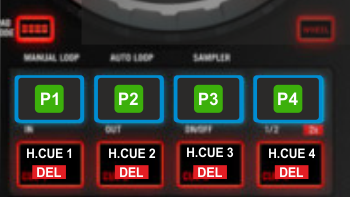 Platinum Manual Loop mode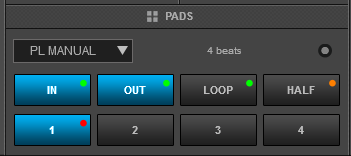 PL MANUAL Pads page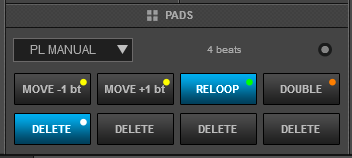 PL MANUAL Pads page when SHIFT is pressed
KEY
ACTION
SHIFT (SECONDARY) ACTION
P1

PAD 1
Sets a Loop In (Start) point for a Manual Loop.
When loop is enabled, sets the Jogwheel to Loop In Adjust mode
Moves Loop backwards by 1 beat
P2

PAD 2
Sets a Loop Out (End) point for a Manual Loop.
When loop is enabled, sets the Jogwheel to Loop Out Adjust mode
Moves Loop forward by 1 beat
P3

PAD 3
Enable/disable a Loop of the selected size in beats. Exits Loop when enabled
Enables and jumps to the last triggered loop (reloop)
P4

PAD 4
Halves the size of the loop
Doubles the size of the loop
AUTO LOOP MODE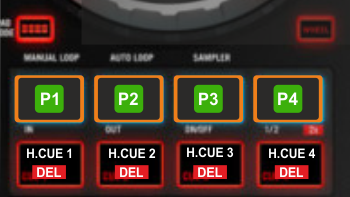 Platinum Auto Loop mode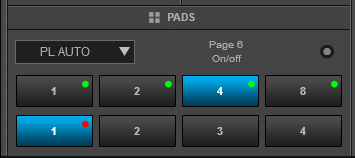 PL AUTO Pads page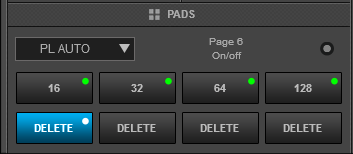 PL AUTO Pads page when SHIFT is pressed
KEY
ACTION
SHIFT (SECONDARY) ACTION
P1

PAD 1
Triggers a Loop of 1/32 to 1 beat depending on the selected Loop bank/page*
Triggers a Loop of 1/2 to 16 beats depending on the selected bank/page*
P2

PAD 2
Triggers a Loop of 1/16 to 2 beats depending on the selected Loop bank/page*
Triggers a Loop of 1 to 32 beats depending on the selected bank/page *
P3

PAD 3
Triggers a Loop of 1/8 to 4 beats depending on the selected Loop bank/page *
Triggers a Loop of 2 to 64 beats depending on the selected bank/page *
P4

PAD 4
Triggers a Loop of 1/4 to 8 beats depending on the selected Loop bank/page *
Triggers a Loop of 4 to 128 beats depending on the selected bank/page *
*
Note: The Loop Bank/page is selected from the arrow buttons on the Pads section of the skin (visible when mouse is over). A 2nd Parameter is also available on the skin, to select the trigger mode for the Auto Loops (On/off, Hold or Loop Roll)
SAMPLER MODE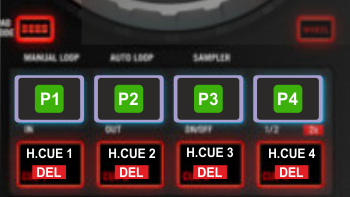 Platinum Sampler mode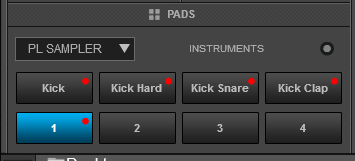 PL SAMPLER Pads page
PL SAMPLER Pads page when SHIFT is pressed
KEY
ACTION
SHIFT (SECONDARY) ACTION
P1

PAD 1
Triggers Sample 1 from the selected Sampler Bank *
Triggers Sample 5 from the selected Sampler Bank*
P2

PAD 2
Triggers Sample 2 from the selected Sampler Bank *
Triggers Sample 6 from the selected Sampler Bank *
P3

PAD 3
Triggers Sample 3 from the selected Sampler Bank *
Triggers Sample 7 from the selected Sampler Bank *
P4

PAD 4
Triggers Sample 4 from the selected Sampler Bank *
Triggers Sample 8 from the selected Sampler Bank *
*
Note: The Sampler Bank is selected from the arrow buttons on the Pads section of the skin (visible when mouse is over). A 2nd Parameter is also available on the skin, to select the trigger mode for the Samples (On/off, Hold, Stutter or Unmute)
Front & Rear