Hardware Manuals
MIXER CONTROLS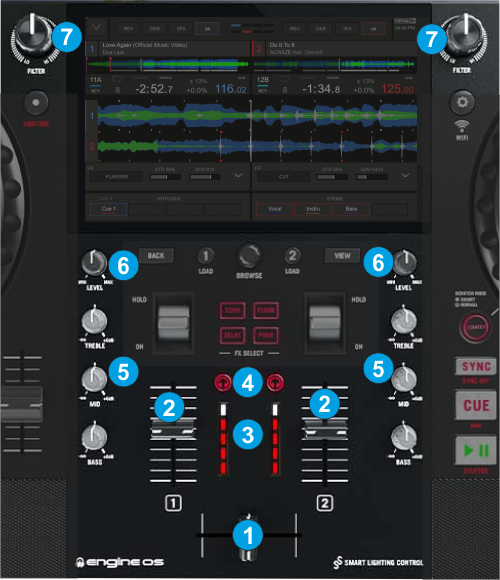 CROSSFADER. Blends audio between the Decks assigned to the left and right side of the crossfader (by default Left and Right Decks).


VOLUME. Volume Faders for Left/Right Deck


DECK VU METER Indicate the pre-fader output level of the Left/Right Deck.


CUE/PFL. Use these buttons to send Left/Right Deck's pre-fader signal to the Cue Channel for monitoring. When engaged, the buttons will be lit.


EQ LOW/MID/HIGH. 3-Band Equalizer knob to adjust the low (bass) / middle (mid) / high (treble) frequencies of the Left/Right Deck.
Stems is fully supported


LEVEL. Adjusts the audio level (gain) of the Left/Right Deck


FILTER. Applies the selected Color FX (Filter by default) on Left/Right Deck.



Deck Controls