Hardware Manuals
PADS - BEAT JUMP
While the Slicer mode is selected, press the
SLICER
mode button again to set the PADs to
Beatjump mode
(led will blink). The Pads section of the default VirtualDJ GUI on the corresponding deck will be also set to the Beajump pad page.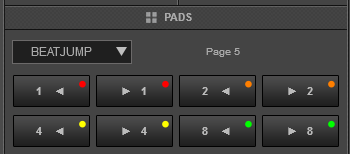 Beatjump Pads page on VirtualDJ GUI
The Pads move the track forward or backwards by the amount of beats specified (from 1/16 of a beat up to 32 Bars) depending on the selected page.
Use the PARAMETER (20) encoder to
select
one of the 9 available
pages
for the Beatjump mode.
Sampler