Hardware Manuals
PADS - AUTO LOOP
Press the
AUTO
mode button to set the Pads to
Auto Loop mode
. The PADS section of the default VirtualDJ GUI will be automatically set to the
Loop page
.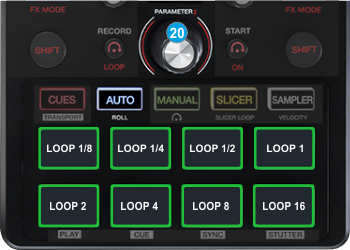 Auto Loop mode - AFX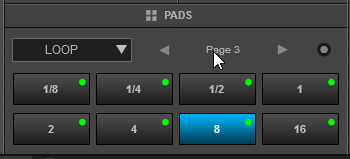 Auto Loop Pads page - VirtualDJ GUI
Each one of the 8 Pads
triggers a Loop
of a different size in beats, depending on the selected
Page
, starting from 1/32 of a beat up to 128 beats.
Use the
PARAMETER
(20) encoder to
select a page
with the desired loop lengths.
Hold
SHIFT
down and then use the encoder to
select the mode
for the triggered loops. Hold (while pressed), On/off (toggle) or Roll (track will resume to the position it would have been if the loop was never applied) can be selected.
Push
the encoder to
enable/disable
the selected
loop
size.
The LCD display will indicate the selected loop size in beats. The dot displayed after the digits indicates that the selected loop size is 1/x beats.
Loop Roll