Forum: VirtualDJ Plugins

Questions about plugins development, talks with other developers etc

How do I put text on screen I have VDJ pro 8 like to put happy birthday or any text I want any size colour over a playing video like you can on pcdj help please
---
Posted Wed 22 Mar 17 @ 8:16 pm

Video effects > Text
---
Posted Wed 22 Mar 17 @ 8:40 pm

Maybe try the text effect that comes supplied with VDJ?
---
Posted Wed 22 Mar 17 @ 8:42 pm

kradcliffe wrote :

Video effects > Text



This feature was working but I updated to the latest revision and it doesn't display anymore. I read to go and look in the folder itself, it is not there either. I'm using a MAC. Any suggestions?
---
Posted Mon 13 Aug 18 @ 5:52 pm

update to the last update 4514 it is fixed
---
Posted Fri 17 Aug 18 @ 4:09 am
---
Posted Fri 17 Aug 18 @ 5:28 am

when i put text on screen in Virtual dj 8 it is to big and you can not see it all? what do i have to do? I am using PC. Not Mac.

---
Posted Sun 20 Jan 19 @ 8:41 am

You need to resize the gray box , to get smaller font size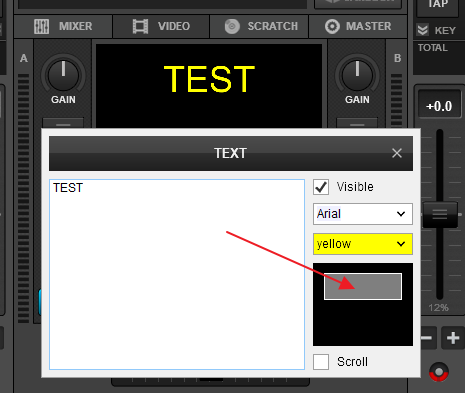 ---
Posted Mon 21 Jan 19 @ 1:46 pm