Forum: Addons
Topic: TellyMedia Controls
---
Posted Thu 21 Jul 16 @ 10:05 am
Very good work! Thank you djdad!!!
---
Posted Sat 23 Jul 16 @ 2:23 pm
I can't get it to work any tutorials?
---
Posted Wed 19 Oct 16 @ 5:16 am
Its a PADS Page which offers controls for the TellyMedia Plugin, and needs to be selected from the PADS drop down selection list. (requires 8.2 and any skin that supports Pads). Once the TellyMedia Pad Page is loaded, you can then control several things from the Skin Pads or from a Controller that supports Pads without having the TellyMedia GUI opened.
---
Posted Wed 19 Oct 16 @ 5:39 pm
we need a video please.. I love to learn .. Great job and idea

---
Posted Thu 26 Jan 17 @ 9:01 pm
Downloaded Windows version, it appears in the pages dropdown list in the pads editor.How do you get it to show in the skin (MULTI-TouchScreen V3)?
---
Posted Thu 02 Mar 17 @ 11:50 pm
The specific skin doesnt offer the ability to directly load a Pad Page other than the ones that the top buttons offer. But what you can do is to assign the action pad_page 'Tellymedia' to a Pad of the CUSTOM Page...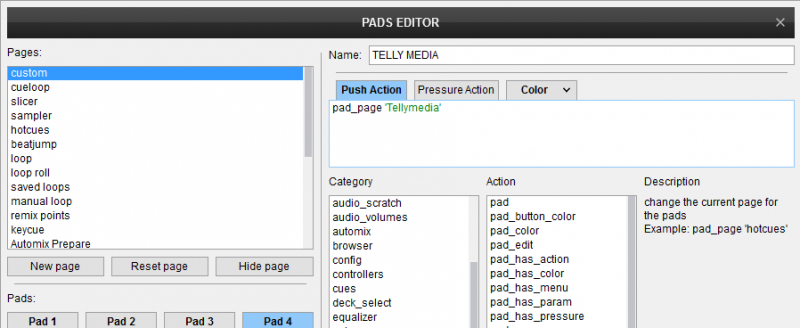 .. and then open the CUSTOM Pad page on the skin and click on the Pad that you assigned this action.

PS. the Pads Editor can be opened using SHIFT +EQ button
---
Posted Fri 03 Mar 17 @ 2:45 am
---
Posted Fri 03 Mar 17 @ 1:54 pm
Will this work with vdj7, or is this a easy port to vdj7 ?
---
Posted Wed 08 Mar 17 @ 2:17 pm
version 7 doesnt have Pads :)
thats a feature available in versions 8.1 +
---
Posted Wed 08 Mar 17 @ 4:28 pm
Thanks, I was thinking I could change these to button in the xml file.
---
Posted Wed 08 Mar 17 @ 10:40 pm
Any way you could create the same thing for Telly Visuals? Looking for a quick pad button to bring up the "Load Layout" option so that I could change scenes on the fly.
---
Posted Fri 21 Feb 20 @ 2:29 pm
You have the idea, you make it.
---
Posted Fri 21 Feb 20 @ 3:06 pm