Broadcast to a radio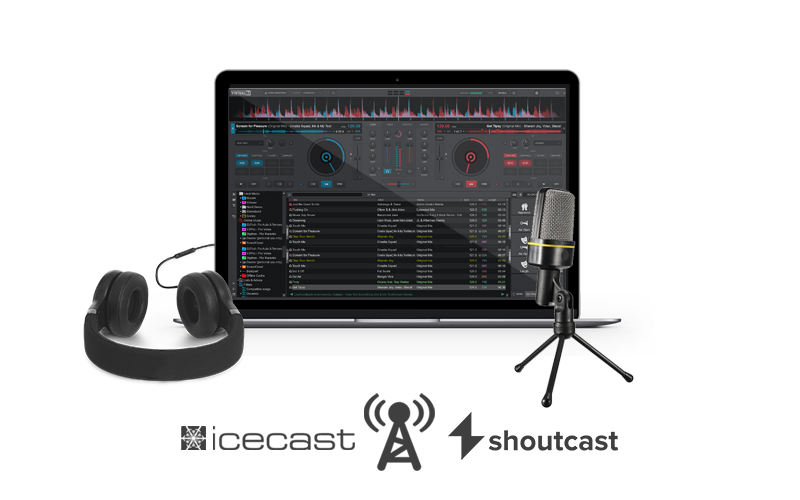 VirtualDJ comes with built-in support for the main protocols used for broadcasting to a radio server (Shoutcast & Icecast).
To use this feature, you need to sign up to a website that offer such servers, either a hosting company or a web-radio.

Some are free, and some might charge for rent of server or access.
Here are some popular examples of web-radios and servers that you can use with VirtualDJ:

Listen2myRadio
http://www.listen2myradio.com/
Guide : https://www.listen2myradio.com/tutorials/Free%20Service%20-%20Broadcasting%20with%20VirtualDJ.pdf

Rad.Io
https://radio.co/blog/virtual-dj-8-broadcast-online-radio

LiveSets
https://livesets.com/faq/virtual-dj-setup-live-broadcasting

TikiLive
https://www.tikilive.com/manual/dashboard/published-radios/broadcast-on-radio-channels/broadcast-virtual-dj/

Live365
https://support.live365.com/hc/en-us/articles/115009723088-Using-Virtual-DJ-8-with-Live365-


---
Alternatively, you can
broadcast directly to social media.
VirtualDJ supports direct broadcast to most popular sites, such as Facebook, Youtube, Twitter (Periscope), Twitch and more..
Learn more here :
https://www.virtualdj.com/wiki/videobroadcast.html
---
In some cases your broadcasting port will need to be opened in order to broadcast directly. Click
here
for a detailed guide.