Add-On
PLUS&PRO ONLY
Downloads this month: 195
Total downloads : 4 204
Popularity: 323
Rating: 4.1

Based on "Swap 4Decks" by DJDad, but now I redesigned some graphics and rewritten many XML code. In summary: black skin, bigger text font, mirrored components, ring deck flash on near song end, remain time on deck, big video on deck and others new features
2Decks;
4Descks;
Video;
Equalizer;
Controller;;
Multi-Function;
Custom
Buttons
Date added: Thu 18 Jun 15 @ 3:20 am
Last update: Wed 12 Sep 18 @ 12:58 am
4.2
Comments
Pioneer CDJ2000 DJM900 NEXUS
Downloads this month: 168
Total downloads : 7 119
Popularity: 298
Rating: 4

This is the default version 8 skin ReLoaded with a unique 'SCRATCH OPTIMIZER' button and carefully selected Tools and improvements based on user feedback.
Date added: Mon 16 Jun 14 @ 4:18 am
Last update: Wed 24 Sep 14 @ 11:01 pm
2.1
Comments
LE&PLUS&PRO
Downloads this month: 61
Total downloads : 1 841
Popularity: 272
Rating: 4

Tailored skin for the Gemini GMX and GMX Drive with customized side panels. The skin is included and installed with the bundled Limited Edition.
Date added: Fri 06 Feb 15 @ 12:26 am
Last update: Fri 06 Feb 15 @ 12:27 am
1.0
Comments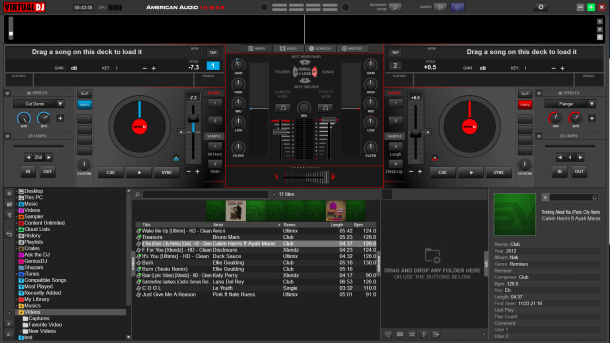 No full screen previews
Downloads this month: 216
Total downloads : 2 590
Popularity: 261
Rating: 4.7

Tailored skin for American Audio 10MXR (installed with VirtualDJ 8 LE)
Date added: Thu 01 Dec 16 @ 6:45 am
Last update: Thu 01 Dec 16 @ 6:46 am
1.0
Comments
Downloads this month: 229
Total downloads : 4 558
Popularity: 257
Rating: 4.4

Single deck skin (for Automix and preparations) . Video preview, Hotcues, De-tachable Browser. 2 different backgrounds. 4 Colors
Date added: Mon 21 Dec 15 @ 11:43 am
Last update: Mon 21 Dec 15 @ 4:45 pm
1.0
Comments