Hardware Manuals
PADS - HOTCUES & MANUAL LOOP MODE
Hold the
PAD MODE
mode button down and then press the
3rd Pad
twice (or once if already selected) to set the Pads to HotCues & Manual Loop mode Release both buttons.
The
Cues & Manual Loop page
will be then selected and displayed on the Pads section of both VirtualDJ and Touch screen GUI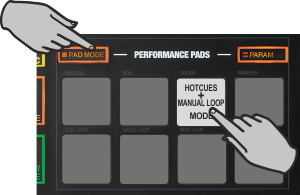 Cues & Manual Loop mode selection

TOUCH GUI view
This mode offers a combination of Hotcues and Manual Loops.
Each one of the
4 top Pads
assigns a
Hot Cue Point
(1 to 4 or 5 to 8 depending on the selected bank) or returns the track to that Hot Cue Point.
When a Hot Cue Button is unlit, you can assign a Hot Cue Point by pressing it at the desired point in your track. Once it is assigned, the Hot Cue Button will light up.
Hold
SHIFT
and then press any of the pads to
delete
its assigned Hot Cue Point.
The
4 bottom Pads
offer the following functionality:
Pad 5 : Loop In. If not in Loop, sets the current track's position as the start point of a manual Loop. If in Loop, jumps to the start point of the current loop.
Hold SHIFT and use the same Pad to half the size of the Loop

Pad 6 : Loop Out. If not in Loop, sets the current track's position as the end point of a manual Loop.and triggers a Loop starting from the Loop In point. If in Loop, exits the loop.
Hold SHIFT and use the same Pad to double the size of the Loop

Pad 7: Loop On/Off. Enables or exits a Loop
Hold SHIFT and use the same Pad to move the triggered loop backwards by 1 beat

Pad 8 : Reloop. If not in loop, enabled the last triggered loop and jumps to its start point. If in loop, jumps to its start (In) point.
Hold SHIFT and use the same Pad to move the triggered loop forward by 1 beat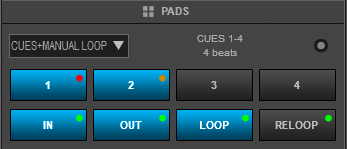 VirtualDJ GUI - Cues & Manual Loop mode

TOUCH GUI - Cues & Manual Loop mode
Hold the
PARAM
button down and then use
Pads 1 and 2
to select the Hotues 1-4 or or the Hotcues 5-8 banks
Hold the
PARAM
button down and then use
Pads 3 and 4
to ha;f or double the size of the Loop (can be also adjusted via the XCODER if in Loop mode)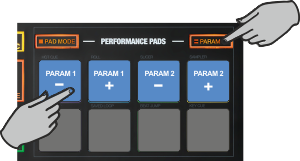 Hotcues & Sampler