Hardware Manuals
LOOP ROLL
Press the
ROLL
mode button to set the PADs to Loop Roll mode.
Press one of the 8 pads to trigger a
momentary Loop Roll.
Once the Pad is released, the track will resume playing from the position it would have been if the Loop Roll was never triggered. The exit point will be visible on the waveform of the VirtualDJ GUI with an additional "running" play marker.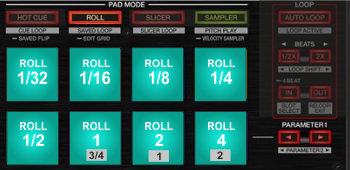 Loop Roll mode – Pioneer DDJ-SX3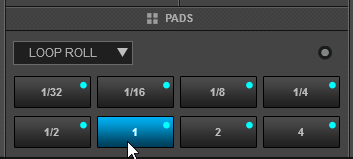 Loop Roll mode – VirtualDJ GUI
Hold
SHIFT
to get a ½, ¾, 1 and 2 beats Loop Roll sizes for the 4 low pads.
Use the Page menu to apply the Loop Rolls to Video.
The
PARAMETER
buttons have no functionality in this mode.
Read further details about Pads in the
VirtualDJ 8 manual
Slicer