Hardware Manuals
ADVANCED SETUP
MICROPHONE
The Pioneer DDJ-FLX4 offers a Microphone input (connection at the rear panel) and level control at the top panel. The signal of this input is directly routed to the Master Output (rear connection), is not part of the USB Audio Interface, and cannot be included in VirtualDJ Audio setup. None of the Mic controls of the device will control mic-related VDJ actions or GUI buttons and vice-versa.
RECORD-BROADCAST
The Pioneer DDJ-FLX4 offers a dedicated
Record input
and this is part of the default Audio setup. As long as the setup is as per the following image, your
mix will be recorded including the signal from the Microphone input.
If for some reason you don't want the Microphone input to be recorded, or the recorded signal is low, you can remove this line and your mix will still be recorded.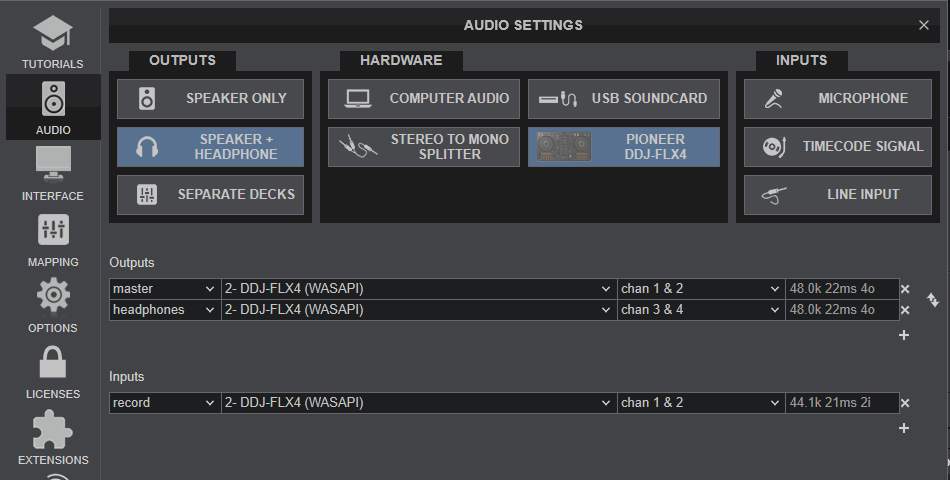 Record Input - DDJ-FLX4 Default Audio setup
MASTER OUTPUT
In case you don't have any speakers available (use your laptop's built-in) or need to use a different USB sound card with your speakers connected there, you will need to change something in the Mapping of the DDJ-FLX4 or else the Master Level knob will not alter the output volume.
Goto VirtualDJ Settings ->MAPPING tab, select the Pioneer DDJ-FLX4 and search for the ONINIT key.
Remove the
fake_master on
action. A new Custom mapping will be created and you can select between this and the factory default, depending on your audio setup.
Also in this case, keep the Master Output line assigned to Chans 1,2 of the FLX4 Audio interface (or else the Record line will not carry any signal) and add a 2nd Master line in your Audio setup with Master assigned to the other sound card (your laptops or other)
---
For further Technical features and specifications, visit
Pioneer DDJ-FLX4

Product's Page
---

Hardware Integration Department
2023 - ATOMIX PRODUCTIONS
Reproduction of this manual in full or in part without written permission from Atomix Productions is prohibited.