Hardware Manuals
CONTROLS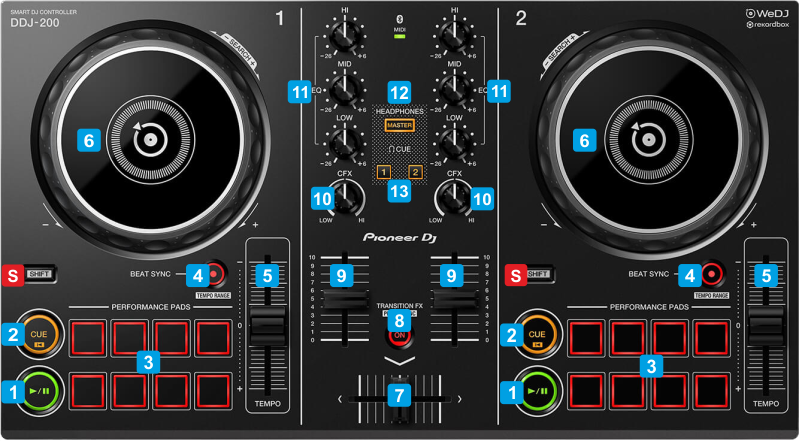 KEY
ACTION
SHIFT (SECONDARY) ACTION
S

SHIFT
Press this button down to access secondary actions as described in the SHIFT ACTION column
1

PLAY
Play-pause loaded track
Play-stutter loaded track
2

CUE
Set a temporary Cue point at current position when track is paused or preview while pressed if Cue point is assigned. Return to this Cue point when track is playing
Jump to the beginning of the track
3

PADS
Operation depends on selected Pads mode. Pad mode can be selected from the VirtualDJ GUI
See Pads in VirtualDJ manual
Operation depends on selected Pads mode
See Pads in VirtualDJ manual
4

BEAT SYNC
Syncs deck with the opposite one (matches BPM and phase) or with the Master-Deck (if more than 2 decks).

Press for more than 2 seconds to enable Mix-Assist and lock tracks on-beat even if scratching.
Selects the next available % range for Pitch
5

PITCH
Adjust the tempo/pitch of the deck.
.
6

JOG
Touch-sensitive jogwheel for scratching (when Vinyl mode is enabled) or pitch-bending (when Vinyl mode is disabled).
Vinyl mode can be enabled/disabled from VirtualDJ GUI
Fast-searching through loaded track
7

CROSSFADER
Blends audio between the Left and Right decks
Additional function to audio blending: Start deck when reach its side, and stop if reaches the other side.
8

TRANSITION FX
Enable/disable the selected Mix Effect. When enabled, the Mix Effect will apply when moving the crossfader from one edge to the other
Select the next available Mix Effect
9

VOLUME
Adjust the Output volume of the Left/Right Deck.
Additional function: Start deck when fader is moving from the zero position to a higher one and stop the deck when fader reaches zero/minimum position.
10

CFX
Apply the selected Color FX (by default a High/Low Pass Filter) to the Left/Right deck. When in middle position, no Color FX is applied.
.
11

EQUALIZER
Adjust the Low, Mid and High frequencies of the Left/Right deck
.
12

MASTER CUE/PFL
When enabled, sends audio signal from the Master Output to Headphones channel
Start/Stop recording your mix
13

DECK CUE/PFL 1-2
Sends left/right deck's audio (pre-fader) signal to the Headphones channel as defined in Audio setup, for pre-listening
.
---
For further Technical features and specifications, visit
Pioneer DDJ-200

Product's Page
---

Hardware Integration Department
2019 - ATOMIX PRODUCTIONS
Reproduction of this manual in full or in part without written permission from Atomix Productions is prohibited.