Hardware Manuals
Advanced Audio Setup
Inputs
The Numark NS7II offers the ability to use the unit as a stand-alone mixer.
Assign a Mixer Channel as external Source and route an Analogue Source (CD player, turntable etc) to the Master Output of the unit. Simply connect your analogue source to the rear side (Inputs) and set the PC/MIC/LINE Switcher of a mixer Channel to LINE.
Note that if a Switcher is set to either MIC or LINE, the Mixer Channel will still control the Mixer Channel of VirtualDJ, therefore the corresponding software deck should not be used (played) as both signals will be routed to the Master Output.
Microphone and Line Inputs of the Numark NS7II cannot be routed to the software individually, therefore no Timecode (DVS) functionality is available nor can the Microphone be controlled from VirtualDJ.
Recording
The pre-defined Audio configuration of VirtualDJ 8 for the Numark NS7II provides the ability to record your mix without any further adjustments.
However, if you wish to record both the software mix and the Inputs (Microphone and Line Ins) at the same time, you will need to add a Record Line to the Audio Setup as per the following image.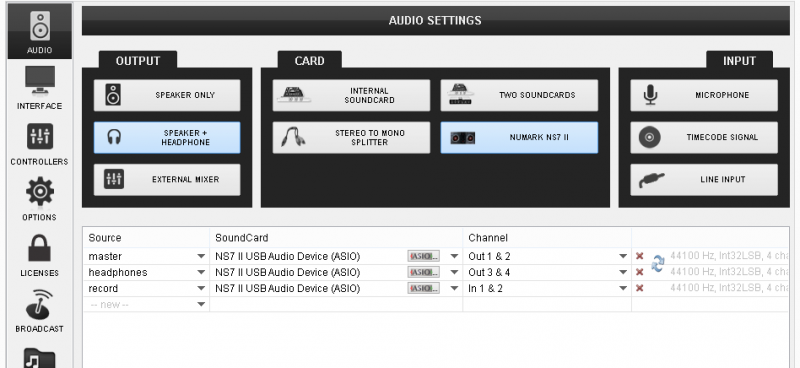 ---

Hardware Integration Department
2016 - ATOMIX PRODUCTIONS
Reproduction of this manual in full or in part without written permission from Atomix Productions is prohibited.