Hardware Manuals
CUSTOM USER MODES
The User mode (provided with the Top USER button) offers
6 different User modes
. Those are selected by holding down the
SETUP
button and select one of the
blue colored Pads
1 to 6
as per the image below. Each one of the 6 user modes represent a different Midi channel. The left side red colored pads represent the default midi channels of the unit and those are reserved and cannot be selected.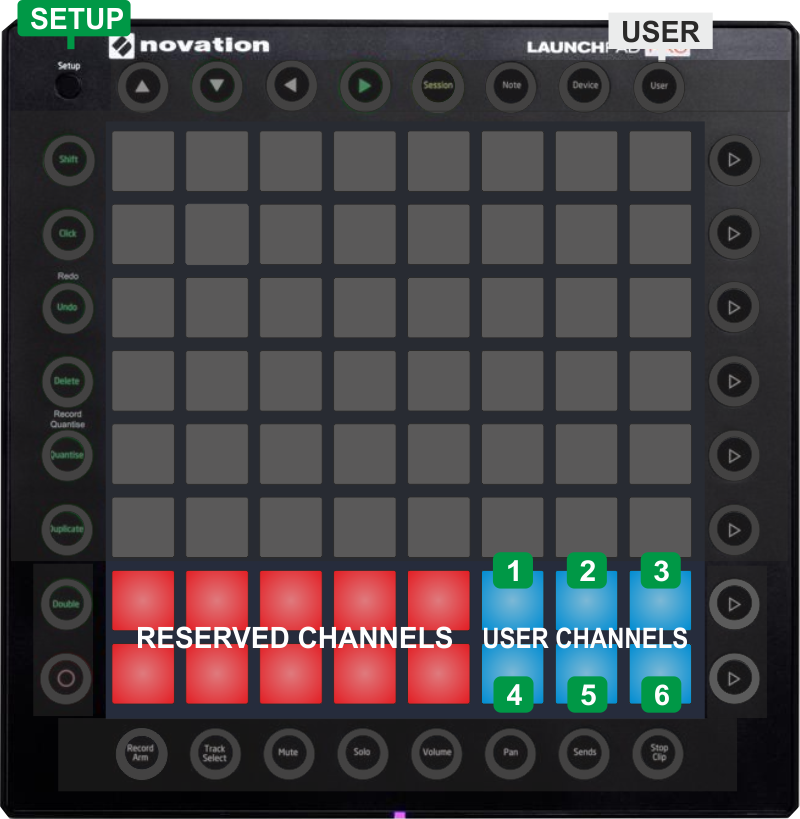 User mode 1
functionality is pre-mapped and described in the
User Mode
section of this manual.
User mode 2
functionality is pre-mapped and offers
OS2L commands
1 to 64 for the pads and no other action assigned at the top/bottom/left/right buttons.
User modes 3 to 6
are un-assigned and can be assigned to whatever VDJ actions you need.
Notes
:
After each time you select a User mode, you need to press the USER button at the top so that the status of the leds get refreshed.

The User (Midi Channel) mode selection is memorized, so if the User 2 mode is selected, then use one of the SESSION, NOTE or DEVICE buttons at the top to go to a different mode and then back to USER, the previously selected User mode will be offered.
Standalone Device