Hardware Manuals
RECORD & TIMECODES
Recording & Broadcasting
The American Audio 10MXR does not offer the ability to record or broadcast your mixing internally. However, recording & broadcasting (including the Microphone inputs) is possible by following the way described below.
Connect the Booth Output with either Inputs CH1 or CH2, using a proper 2XRCA cable.


Head to the AUDIO tab of VirtualDJ Settings and add a record line to the audio configuration and select the Inputs Channels 1&2 or 3&4 (depending on which Input CH the Booth Output is routed).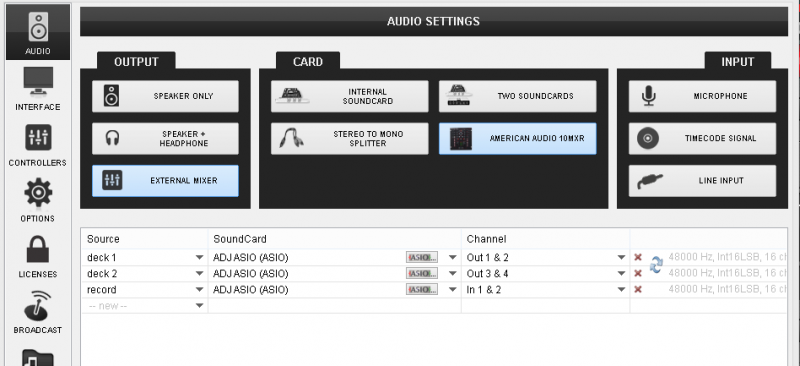 Timecodes
The American Audio 10MXR offers the ability to use Timecode CDs or Vinyls (DVS).
Connect your Timecode CD players or turntables with the Inputs of CH 1 and CH2 using proper 2xRCA cables.


Head to the AUDIO tab of VirtualDJ Settings, and click on the Timecode button in the Input tab.
The following audio configuration will be created and the Timecode on/off buttons will appear on the VirtualDJ GUI.


Click APPLY.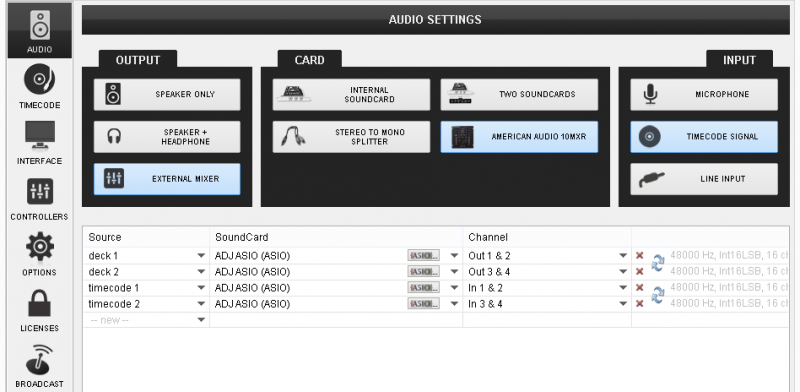 ---

Hardware Integration Department
2016 - ATOMIX PRODUCTIONS
Reproduction of this manual in full or in part without written permission from Atomix Productions is prohibited.