Forum: VirtualDJ Skins
Im not into skinning. How hard would it be to have 2 screens one with deck 1 and 2. second screen 3 and 4 . with same browser shared and 4 track wave form.
---
Posted Wed 02 Mar 22 @ 10:17 pm
I'd say it's doable, I don't get every detail of skinning but, if using default pro as a basis I could probably do it, I wouldn't say it'd be easy, not too hard either but time consuming, I'd strip out some skin options to save effort for choices you wouldn't use.

What's the inspiration for this?

edit ah I see dj v dj
I think I could do it, strip out most of the 4 deck stuff except the waves, make the deck assignments deck 1 & 2 instead of left/right
then just duplicate it as a 2nd window after reassigning in decks 3 & 4

sounds like not much but it would be a line by line task
---
Posted Wed 02 Mar 22 @ 10:37 pm
my idea is to charge a boat load to have two djs play each other while still being able to see what the other is doing using one computer just two controllers .. presentation, computation. 20 djs one night
---
Posted Sat 05 Mar 22 @ 5:57 am
how much of the other screens info would you want a dj to see?
are you thinking, simply a 2 deck skin but showing 4 moving waveforms,
or perhaps a 4 deck skin, with the other screens decks shown as a mini deck?
---
Posted Sat 05 Mar 22 @ 7:29 am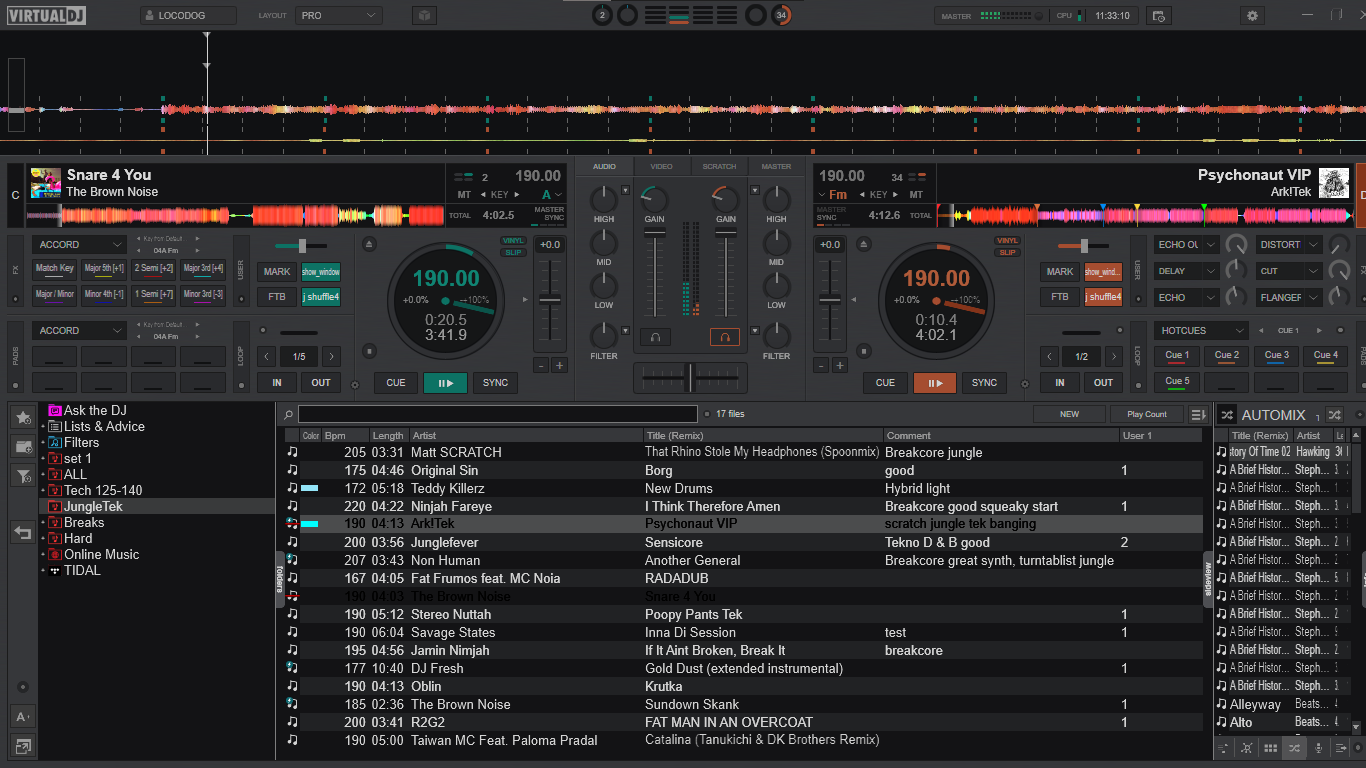 I started picking at it, what you're looking at is a external window with decks 3&4 as a 2 deck skin, still some things to iron out

not sure why it appears a few pixels wider [@devs any hints? window is 1920*1080, will resize correct but a skin reload and it gets a bit bigger]
bits needed to idiot proof, and only the basics of skin layout options tested so far [scratch panel works though]

---
Posted Sat 05 Mar 22 @ 12:00 pm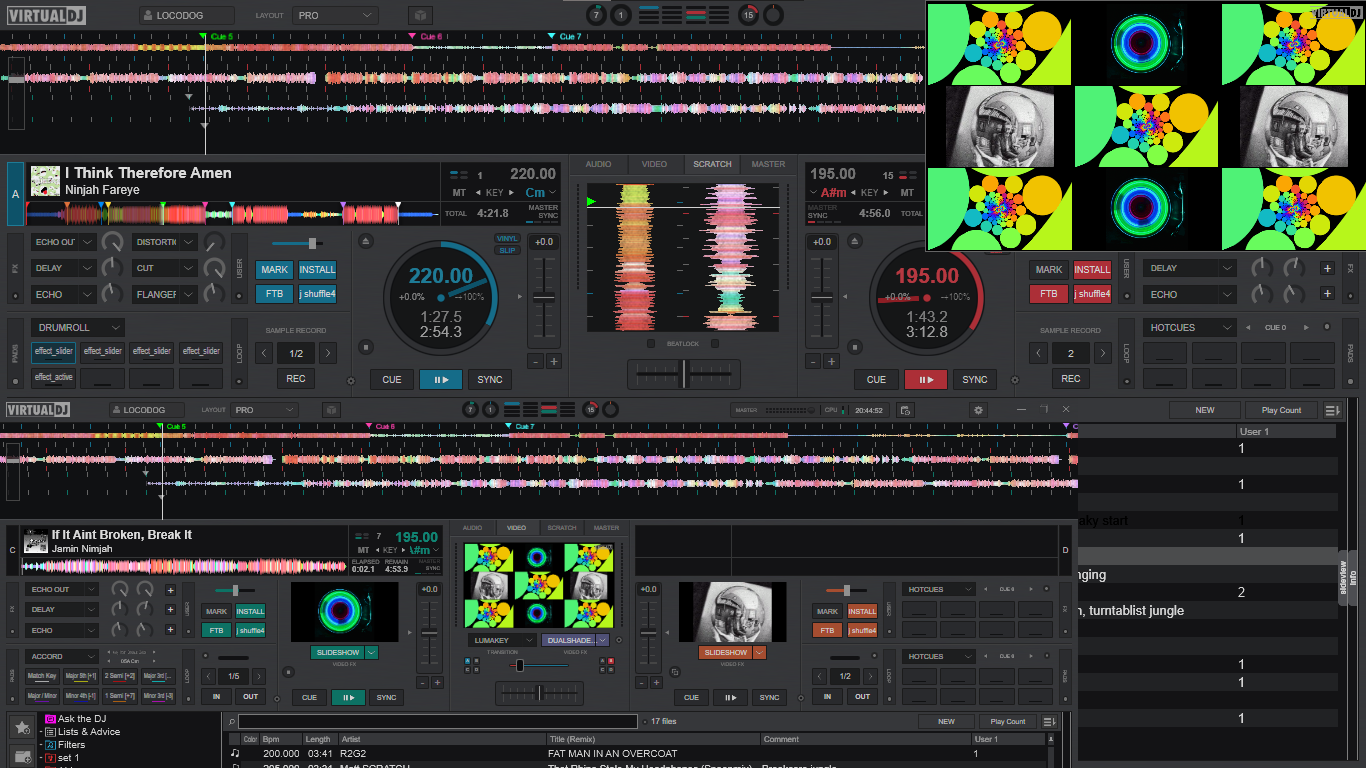 further picking
A bit to take in, [this is a single whole screenshot]
mixer tabs are independent between the 2 windows [main on scratch, secondary on video]
video preview are sourced from deck [not left/right video]
a few little changes to specified deck [not deckleft/right] mainly vu's

I learnt a thing or two along the way. Probably bits still to fix.
---
Posted Sun 06 Mar 22 @ 9:07 pm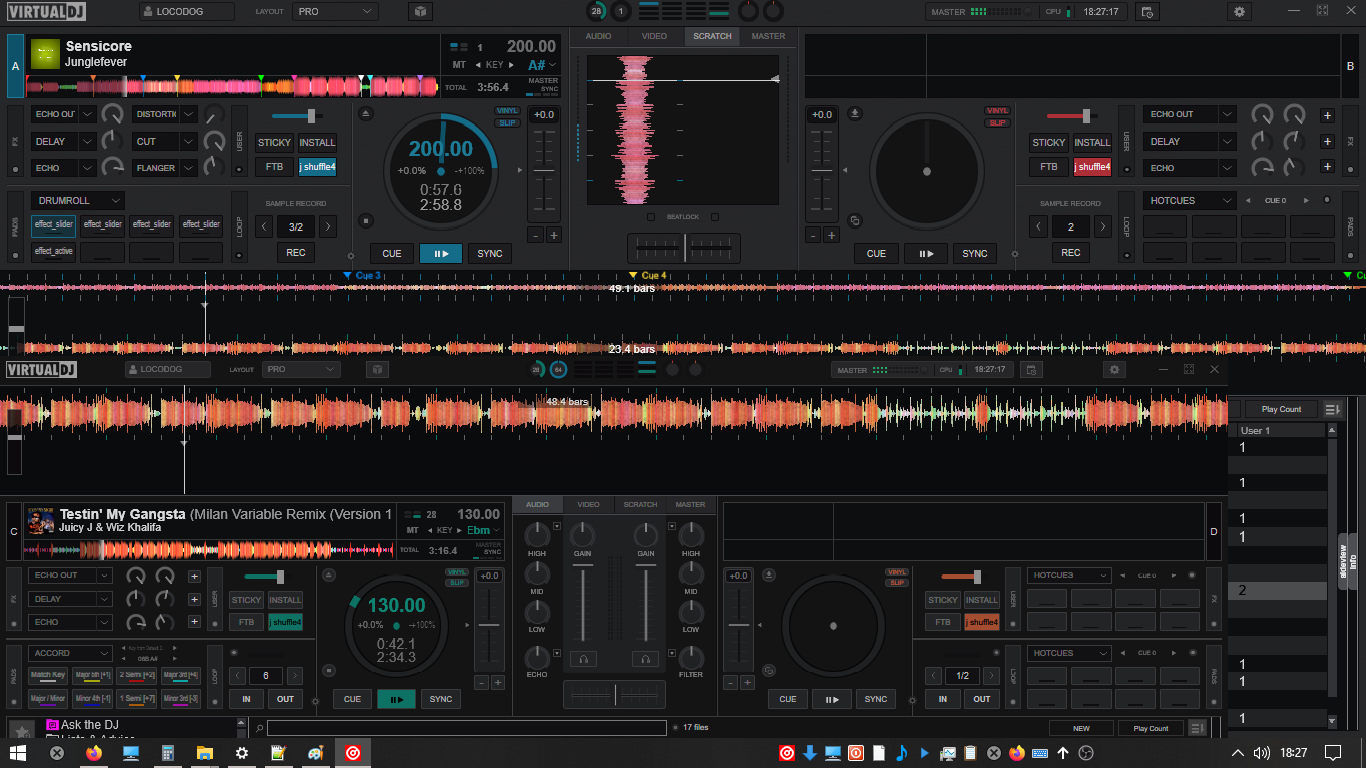 now the following are independent to the each screen.
jog type
colour scheme
wave position
waves shown, local decks or all 4

I've not thought about 4 deck mixer, or showing mini decks for the opposite screen's decks. yet to look at wave colour scheme.
---
Posted Mon 07 Mar 22 @ 6:54 pm
dude its sick....talk about kicking it out of the park. mind blown..
---
Posted Mon 07 Mar 22 @ 8:24 pm
I'm just glad I don't need to touch a gfx program to do this [because I have no idea how anything more complicated than m$paint XD works]
really if not for vector graphics, I probably wouldn't have even started.

I've got the mini decks sorted and a choice to not show them if you wish.
link in pm.
---
Posted Mon 07 Mar 22 @ 11:32 pm
Respect. You did a awesome job. I cant wait to see you release this to all users . I want all of them to be back working making this a huge payday for them. Any way that you can add a extra event to your pile and charge more is a great idea.
---
Posted Thu 17 Mar 22 @ 12:12 am