Forum: VirtualDJ Technical Support
Topic: Where is a list of options for the song info format
I am desiring to edit the broadcastsonginfoformat option under broadcast in the Options window. Where can I find a list of things I can add or remove such as year, etc.
---
Posted Tue 23 Feb 21 @ 10:36 pm
%artist, %title, %titleremix %album and %artisttitleremix
Should work. Not sure if year is part, cant remember, but try %year if you want to test

And you can add regular text as well.


---


And to REMOVE year, I guess its part of the song title or artist, where it doesnt belong.
For that, simply clean up your tags with the Tag Editor ;-)

https://www.virtualdj.com/manuals/virtualdj/editors/tageditor.html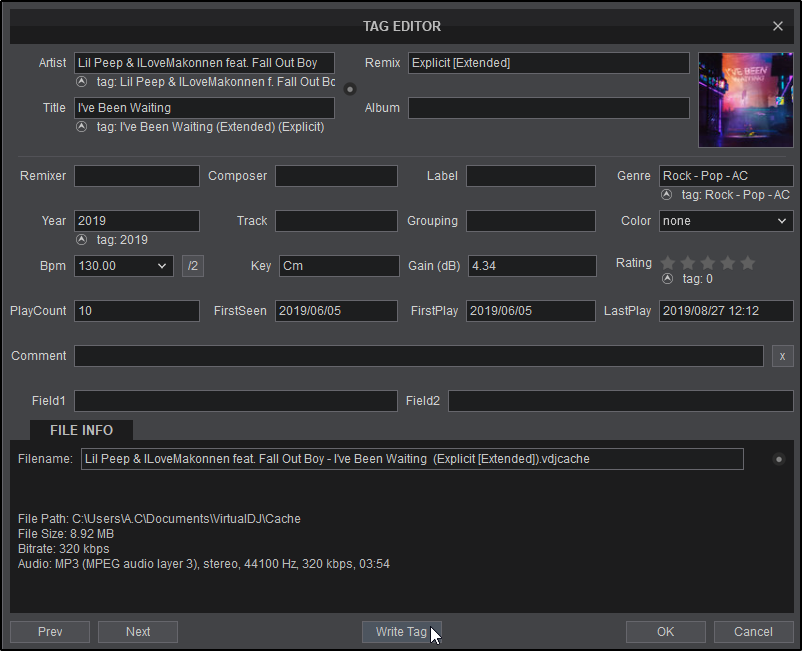 ---
Posted Tue 23 Feb 21 @ 10:43 pm
NON OFFICIAL raw list of current state of what I know :
There are both original name and alias. Translations in current language are allowed too (not recommended as they can change depending on language file i.e.: artist)

"Album
"Album Art"
"Already Played"
"alreadyplayed"
"artist" use author instead, this one is not valid out of english
"author"
"Bitrate"
"BPM"
"Bpm Difference"
"bpmdiff"
"Color"
"colour"
"Comment"
"Composer"
"Days since First Play"
"Days since First Seen"
"days since firstseen"
"days since firstplay"
"Days since Last Play"
"days since lastplay"
"Drive"
"Edit"
"Exists"
"extension"
"field1"
"field2"
"File Date"
"File Name"
"File Path"
"File Size"
"First Play"
"First Seen"
"File Type"
"filedate"
"filename"
"filepath"
"filesize"
"filetype"
"firstplay"
"firstseen"
"From"
"Genre"
"Group"
"Grouping"
"Harmonic"
"Has Edit"
"hascover"
"haslinkedvideo"
"hasprecomputedstems"
"Is Edit"
"In SearchDB"
"insearchdb"
"ispresent"
"isscanned"
"Key"
"Key Change"
"Key Difference"
"keydiff"
"Label"
"Last Play"
"lastplay"
"Length"
"Loaded On"
"loadedon"
"Message"
"Mode"
"nbplay"
"Original Sort Order"
"Play"
"Play Count"
"Play Time"
"pos"
"Position"
"Precomputed Stems"
"Rating"
"Remix"
"Remixer"
"Reset Sort Order"
"Scanned"
"Singer"
"songlen"
"stars"
"stream"
"stream video"
"Title"
"Tips"
"Track"
"Type"
"User 1"
"User 2"
"Volume"
"When"
"Will play at"
"Year"

not all are available all the time, this depends on format and sideview and special folders
many other maybe missing
---
Posted Tue 23 Feb 21 @ 11:21 pm