Forum: Wishes and new features

Features you would like to see in VirtualDJ
Topic: Sampler sync on beat in drop mode

Hi
I use many vocals in the sampler using DROP mode because I don't want to loop them.
When I prepare my samples, i set the phase and the start of the sample correctly so when I click on the sample with the mouse it starts exactly where I want and in sync with the beat currently playing.
Then I try to play the same sync with an assigned button on my cdj 2000 NXS 2 and unfortunately, I can hear a delay between my sample and the beats. Basically, the latency of ASIO is responsible of this delay. The minimum I can set is 256 (+ ultralatency) otherwise I can hear noises.
So, it seems that the start position of the sample is strongly link to the material latency in DROP mode and that is a real issue. It seems that in LOOP mode + Sync-Start it is better but it is not what I need. I have tried to set several values to the Sampler Latency option without any effect.
A workaround consists in loading the sample in a deck and define the main beat with the TAP button. It works but in a performance mode it is time consuming to use decks for samples.
One suggestion is to add a Sync-beat option in DROP mode (maybe LOOP mode too) + adding a specific marker in the wave form that can be moved to define the exact main beat position (same as TAP action on a deck). Using this option, the sample will be played in beat sync with the main track without any latency dependency
Hope it is clear …
Thanks
---
Posted Wed 18 Nov 20 @ 11:54 pm

When you use the mouse to trigger the sample (and it works well), are you using the CDJ-2000 audio interface?

When you use the CDJ, presumably you are sending the audio through the CDJ audio interface. Are you also sending the audio output of the sampler through the same CDJ audio interface?

If you're using the CDJ audio interface at all times, I find it doubtful that there would be a difference in delay between starting the sample with a mouse vs a CDJ button.
---
Posted Thu 19 Nov 20 @ 10:12 am

Good point !
yes I have done my tests while djm900nxs2 & CDJ2000 NXS2 were both connected with ASIO and audio set to this ASIO config .
I have also tried to configure a button on my keyboard AKAI MPK Mini and there is no latency. The sample starts immediatly, same as clicking on the sample through VDJ interface
I have configured SAMPLER output to line 4 of my DJM.
It seems also that DJM ASIO driver is the one impacted (the ASIO interface can be opened via VDJ Audio settings) . Changing latency into CDJ ASIO interface has no impact (this interface is not available through VDJ, only via Windows interface).
jmp
---
Posted Fri 20 Nov 20 @ 12:49 am

What does your audio setup look like exactly?
If you are using the djm asio you should not need to have the cdj asio in there at all
---
Posted Fri 20 Nov 20 @ 2:30 am

Hello,
here are my settings: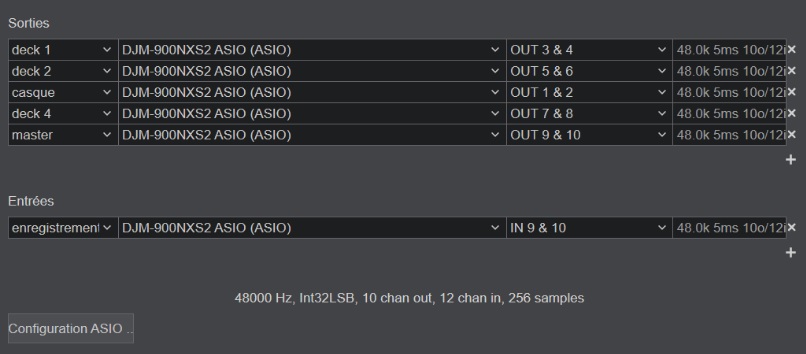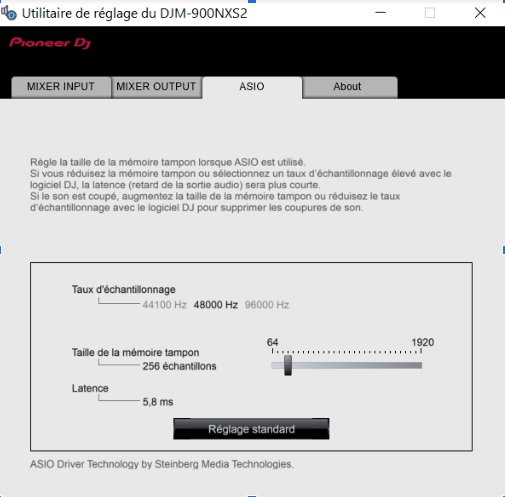 but with this ASIO i usually set the buffer value around 1024minimum to avoid noises when the CPU is stressed (i usually broadcast video when i play).

FYI, i have played this week using my XDJ-XZ material and i have the same issue. The ASIO driver is better than DJM ASIO and can be set to 256 without noises, but when i use buttons to start the sampler, i have much difficulties to sync the sampler with the tempo.
So having a possibility to add a marker in the sample that identifies the main beat to be in sync with the tempo would be a great feature.
Thanks
---
Posted Mon 23 Nov 20 @ 10:44 am