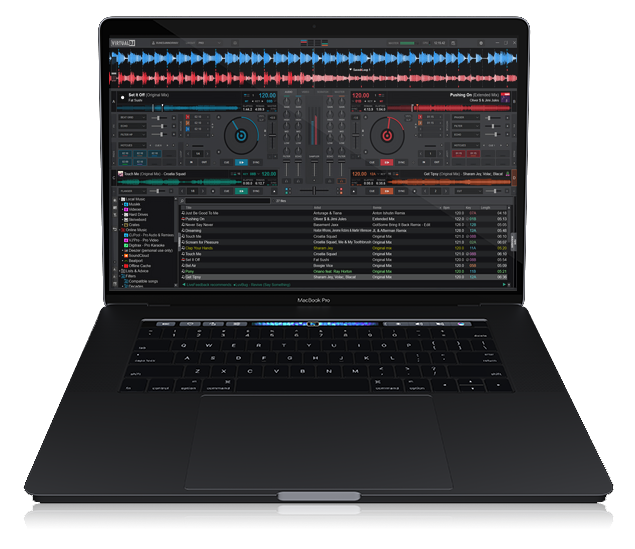 #1 MOST POPULAR DJ SOFTWARE
VirtualDJ is by far the most used DJ software on the planet, with over 100,000,000 downloads. There's a reason why everybody starts with VirtualDJ.
Powerful, yet easy to use
Packing the most advanced smart DJ technology, and intuitive features, VirtualDJ is easy to learn and master for any starter DJ. And it's free for non-professional use.
EMPOWER YOUR CONTROLLER
For professional DJs, by using VirtualDJ instead of the limited software that comes with your controller, you will have the most advanced technology at your fingertips and perform even better mixes.
20 YEARS OF BEING THE #1 DJ SOFTWARE
With more than hundred million downloads, VirtualDJ is by far the most used DJ software on the planet. Ask around, most DJs are familiar with VirtualDJ and likely have used VirtualDJ at some point. No matter if you are a beginner or an accomplished DJ, VirtualDJ will always provide you with the latest cutting-edge features, which will help you mix better, and give you an advantage.
The professional press is unanimous: VirtualDJ keeps pioneering the DJ world by introducing features years before the competitionm, with new technologies that will shape the DJing world of tomorrow. Don't let others have better tools and mix better than you! Use the most advanced software yourself straight away, and perform the best mixes you can!

... putting the other choices to shame with a wealth of features...

... outmatches the competition in innovation, no other DJ software comes close

... at the cutting edge of digital DJing today. An impressive feature set...

... a killer piece of software - with features that don't exist on competing software
Stand-Alone DJ Mixer
VirtualDJ lets you start mixing as a DJ right away, with just your computer. To practice & learn, or prepare sets & playlists. VirtualDJ works for for every type of DJ, with or without hardware.
Library Management
Superior song library management with fast search, smart folders, playlists, and more. And with AI-suggestions, requests, and online catalogs.
Video & Audio Mixing
VirtualDJ supports a multitude of audio-, video- and karaoke formats. Entertain your guests with stunning visuals, video mixing or host karaoke events.
Effects & Samples
Built-in professional audio- and video- effects to enhance your sound and mix. And unlimited sampler with easy control of sound and/or video loops.
ROCK SOLID PERFORMANCE
Independent studies show that VirtualDJ has the lowest crash-ratio in the industry! Using highly optimized, reliable, and well-tested code, VirtualDJ runs smoother and faster than any competitor's software, and can be trusted for your gigs.

Choose a platform for your DJ work that will not let you down!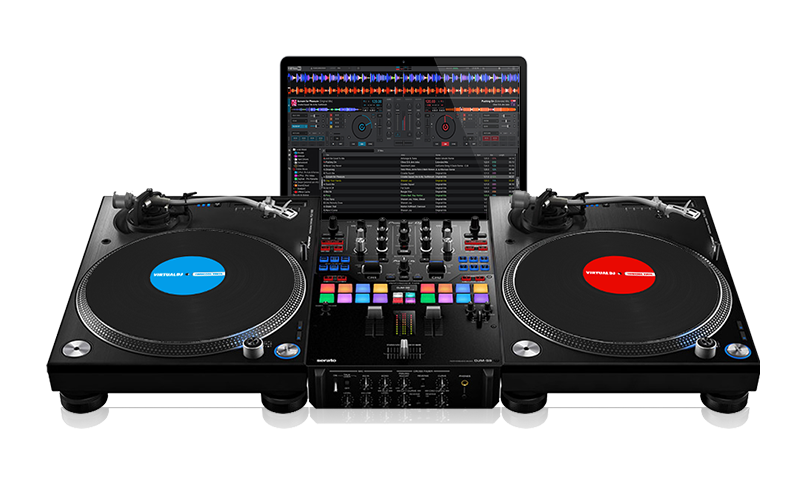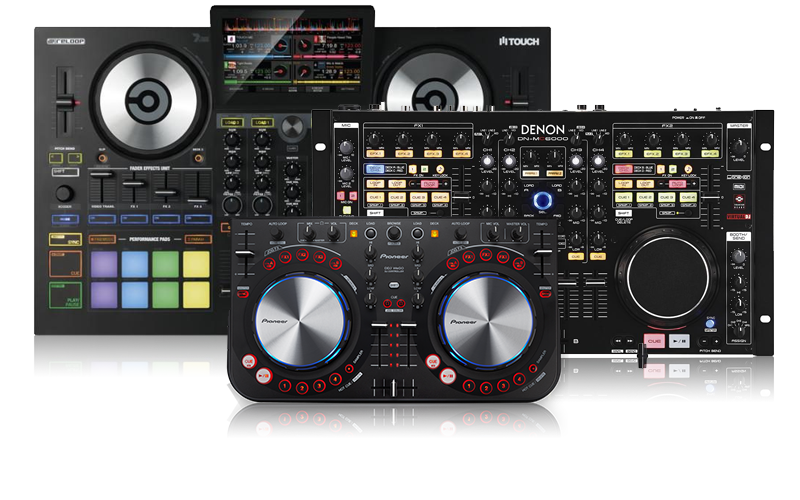 EXTENSIVE HARDWARE SUPPORT
VirtualDJ supports more DJ controllers and hardware than any other software. With plug & play support for over 300+ controllers, the choice of gear is all yours. From easy to use entry-level controllers to advanced club mixers, simply connect your controller and you are ready to mix. Detection and setup is automatic, and the powerful built-in mapper lets you customize everything easily to set your controller to work exactly as you want it to.

Keep your options open and your gear fully under your control with VirtualDJ!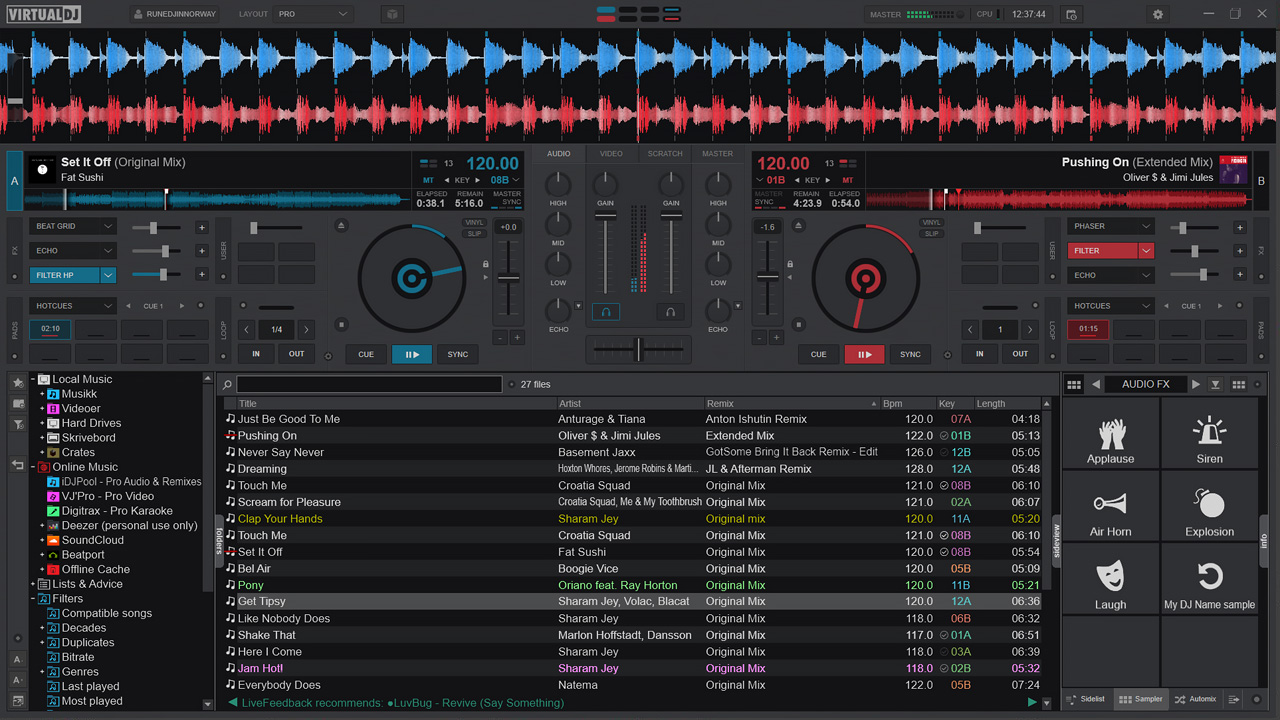 INTUITIVE INTERFACE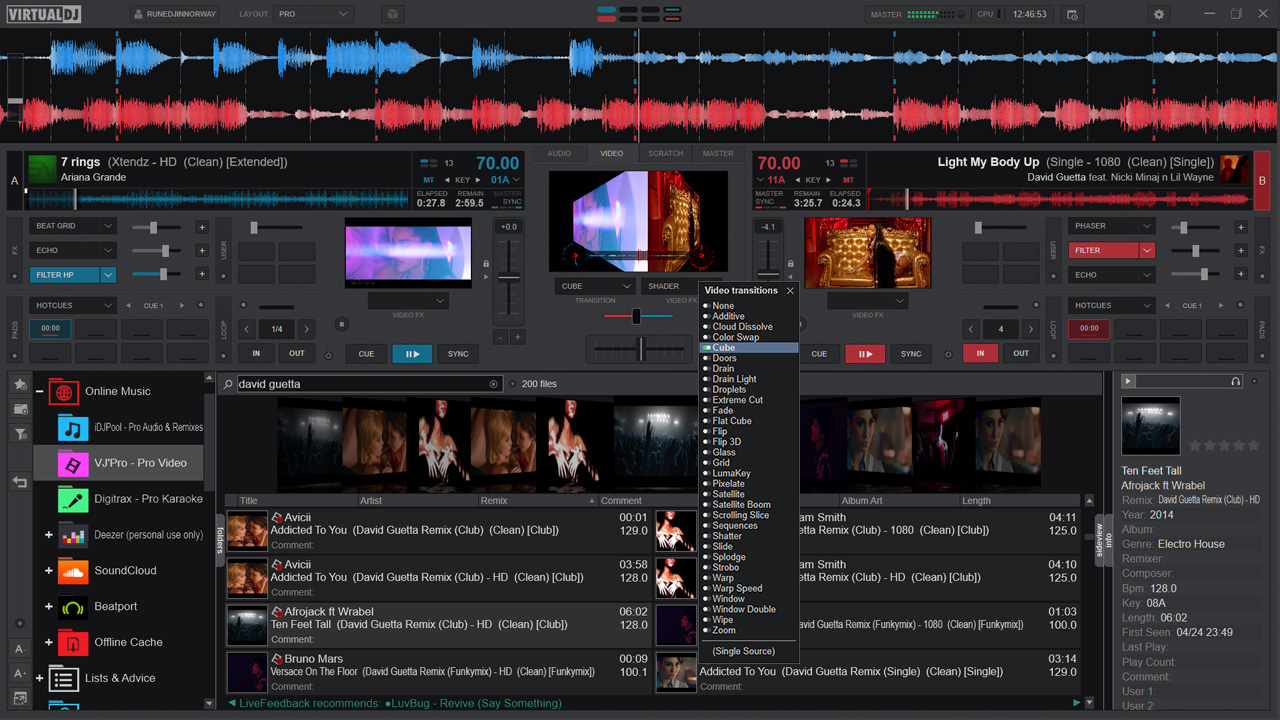 VIDEO & KARAOKE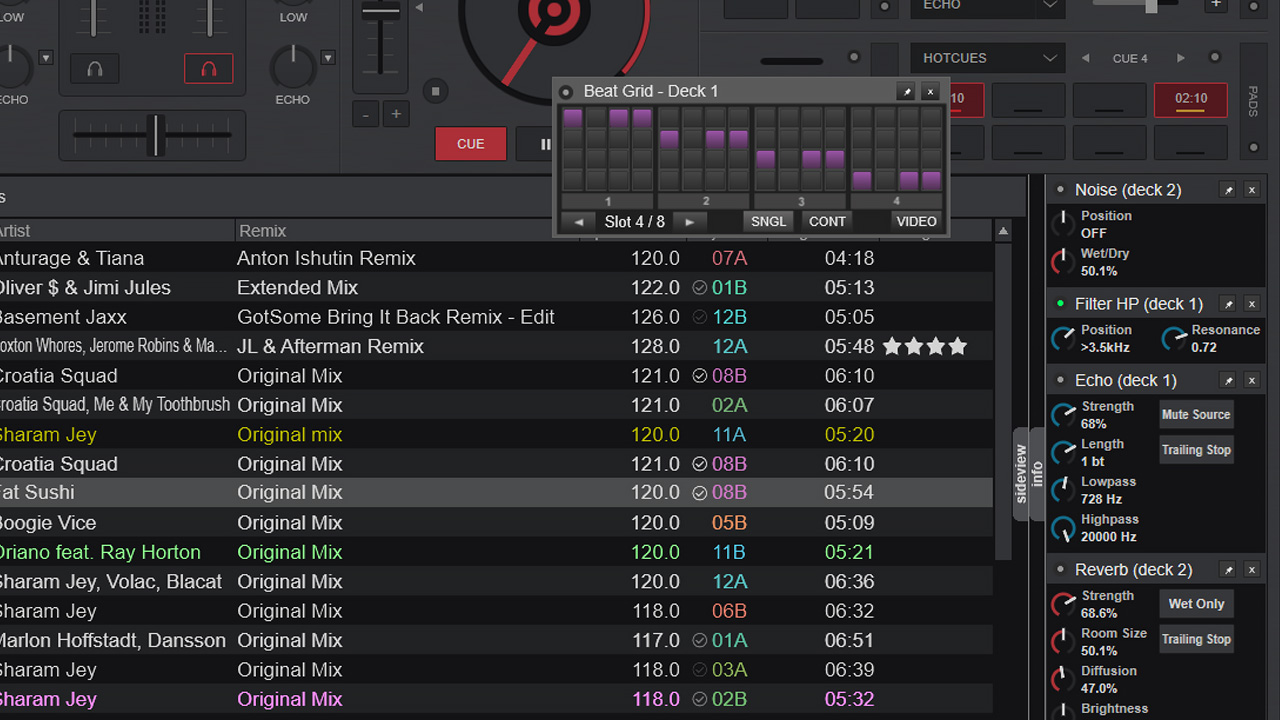 MULTITUDE OF EFFECTS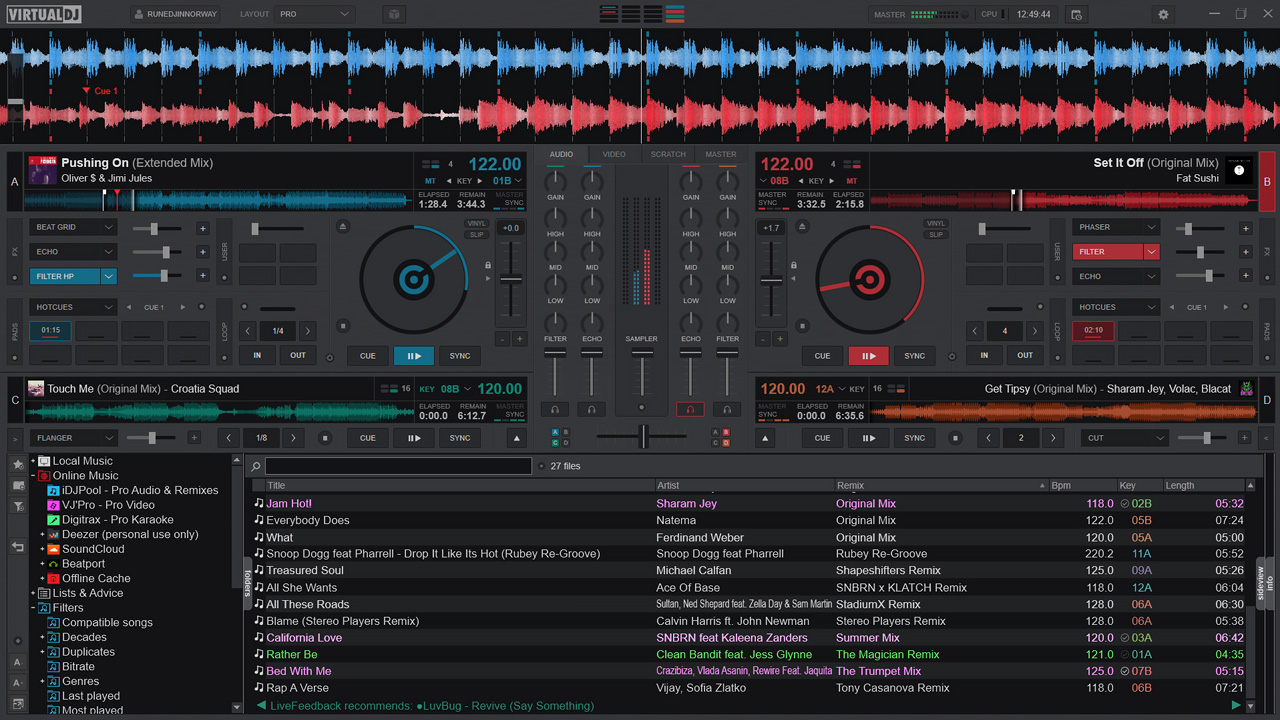 4 DECKS (OR MORE)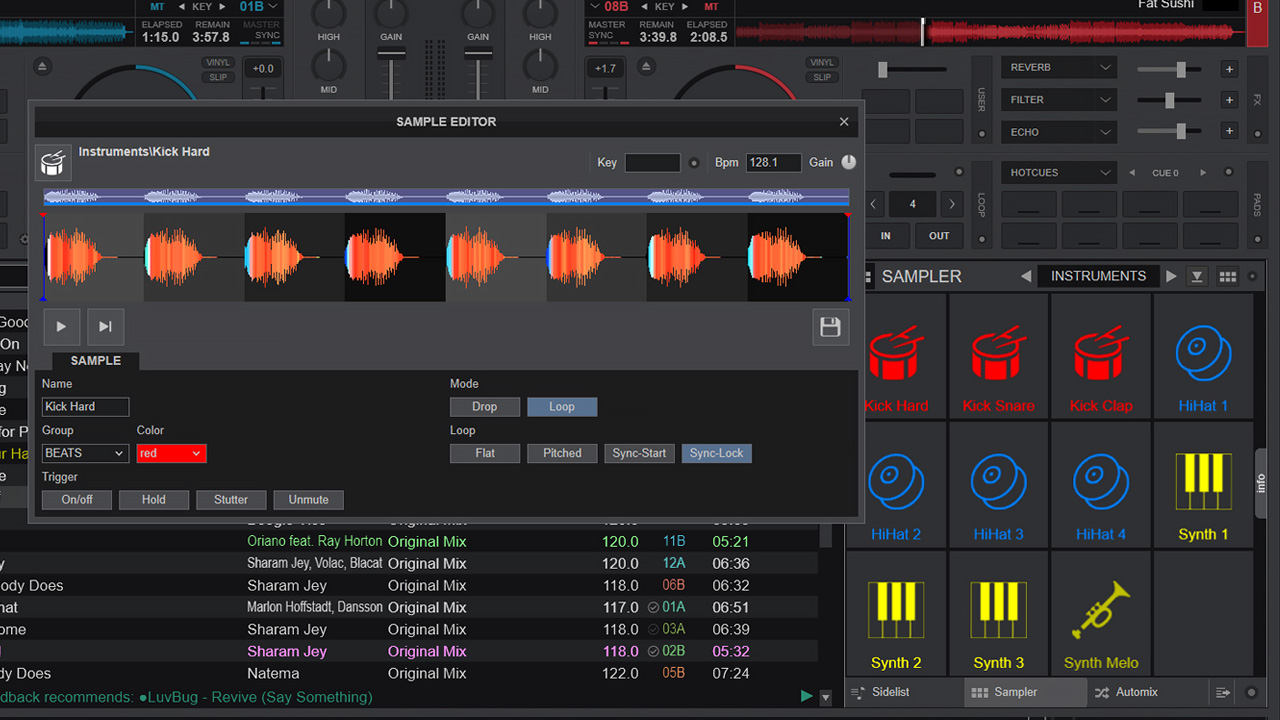 UNLIMITED SAMPLER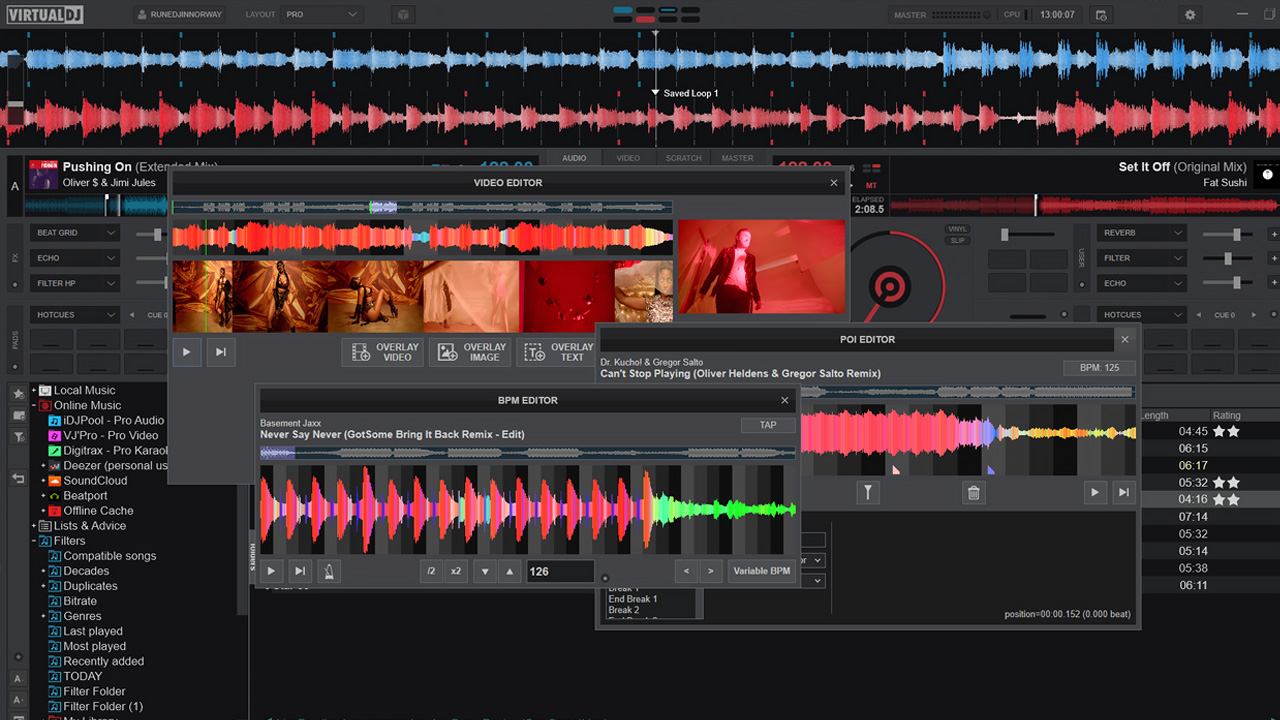 POWERFUL EDITORS

Loading screenshots..
STREAM MILLIONS OF SONGS
VirtualDJ lets you stream tracks from our partner catalogs directly within the software. Play anything from the millions of songs available, discover new tracks from tailored charts, and create your own playlists with ease. From mainstream to underground, everything is available right at your fingertips. All in high-quality formats.

You will always have access to the best versions and remixes intended specifically for DJ's, to karaoke and music videos, or to broader generalist catalogs like Deezer and SoundCloud. You will never run out of music to play, or be unable to fulfill a client's request.
INDUSTRY LEADING FEATURE SET
VirtualDJ stacks more features than any other software, and new ground-breaking technology comes in VirtualDJ first. With VirtualDJ you are always ahead of the curve with the latest technology and innovative features.
VirtualDJ lets you do more!. Unleash your creative potential...