User Manual
MINI DECKS
6 DECKS

All 6 Decks are offered as Mini Decks below the main decks in order to save valuable space. Artist, Title, song position, and VU meters (while the deck is playing) are displayed in each one of the Mini Decks. Each Deck also offers a
PLAY
and
SYNC
button. Clicking on the title display area of any Mini Deck will toggle between Artist & Title, just the Artist, or just the Title.
Mini Decks 1, 3 and 5 are assigned to the left deck (A) and Mini decks 2, 4 and 6 are assigned to the right deck (B). Clicking on the header of each Mini Deck will send it to the assigned main deck so that it can be controlled. The decks are numbered and will display the corresponding color for it's assigned main deck when in use (blue for Left, red for Right).
The
M
button located on each Mini Deck indicates the
Master Deck
(indicated in orange). All other decks will sync to the Master Deck if SYNC is pressed.
Each Mini Deck provides a PLAY button to the left of the VU meter and a SYNC button to the right to provide quick access without having to send each individual deck to a main deck.

Each deck can be assigned to a specific side of the crossfader. Use the crossfader assign buttons to assign a deck as left or right side of the crossfader. If the crossfader is set to the far left or right side, only the opposite decks will be audible in the Master Output. If a deck is unassigned (greyed out) it will be audible regardless of the crossfader position.
BROWSER ZOOM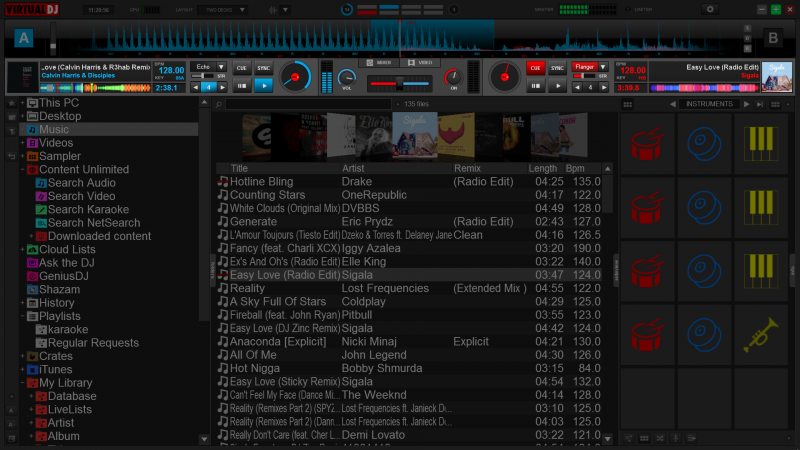 Browser Zoom allows for an expanded look at the
browser
area in order to better organize and search the library. Since the
browser
gets expanded, control is still needed of the decks and they are minimized to a set of Mini Decks in the 2, 4 and 6 deck layouts (6 deck layout displays 2 decks only). The Mini Decks provide the most basic controls needed while the
browser
is in it's zoomed display.
Browser Zoom can be enabled and disabled from the bottom of the Side Toolbar (lower left side of the browser).