User Manual
iTUNES

VirtualDJ will read the iTunes Library on every launch and will display all of your iTunes Playlists in the dedicated Root element of the
Folder list
. Right-click on the iTunes folder to reload the playlists if changes are done within iTunes and VirtualDJ is running.
By default it will look for the iTunes library files from the default iTunes folder, but a custom one may be selected from
Options
.
Choose Import iTunes Ratings from the same right-click menu, if you wish your tracks to keep the ratings given from iTunes.
The iTunes root element will not be offered if iTunes is not installed on your computer. Even though iTunes playlists are considered Playlists, they cannot be moved, copied, renamed or deleted within VirtualDJ. If you wish to do that, you will either need to use iTunes or create
M3U Playlists
from them.
However, batch operations (Analyze, add to SearchDB, Load tags etc.) are offered right-click menu options.
VirtualDJ uses the iTunes Library.xml file to read your iTunes database. In iTunes 12, this xml file is not shared by default and may cause your iTunes library to not be read by VDJ.

To correct this go to Preferences Advanced and ensure that "Share iTunes Library XML with other applications" is checked.

After this, close iTunes completely. It will generate the XML file required by VirtualDJ and you will then be able to launch the software to have complete access to your iTunes Library.

If the iTunes XML is not in the default location or has been moved to an external drive, you can specify the path in VirtualDJ by going to Options Settings and typing the path of the iTunes library in the iTunesDatabaseFile option.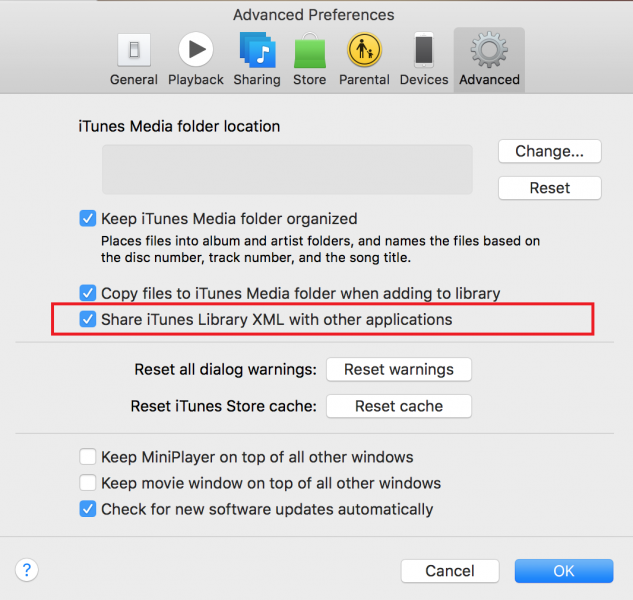 VIDEO
iTunes Fix
Note: iCloud and Apple Music files are cloud based. These results will not appear in the VirtualDJ Browser.
Serato Crates