User Manual
SAVED LOOPS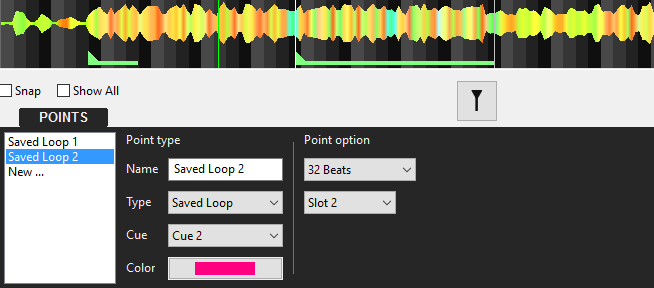 VirtualDJ has the ability to create and save loops in the POI Editor and does not automatically create any Saved Loops. Just like other POI types, Saved Loops can be managed exactly the same way (see
managing POIs
) with the addition of adding a color as well as defining the length of the loop and it's Slot number.
The loop can be resized by grabbing the start or end point (white indicating lines) with a mouse and dragging it to increase or decrease the length. Alternatively, the number of beats of the loop can be defined by clicking on the drop down menu under the Point options.

Saved Loops are automatically highlighted on the
Deck Waveform
and
Rhythm Wave
when activated. If the Saved Loop is saved as a Cue Point, it will be triggered by a Hot Cue button and will remain in looped until turned off in the loop control panel, keyboard shortcut, controller or custom button.

The Slot Number can also be defined for custom script actions or Controllers that have multiple loop slots by using a script. The script action "
saved_loop 2
" would trigger whichever Saved Loop that is assigned to Slot 2 for example.
Adding a color will affect the display of controllers with RGB pads, the position markers on the default skin, as well as the
Pads
display.
Actions