Forum: Wishes and new features
Topic: is there support for 2 corssfaders so i can dj with a buddy of mine on the same pc 2 dj set ups
i would love it if i could get my rev 1 and my ns7 to work at the same time so we can both dj at the same time on the same pc
---
Posted Sat 23 Apr 22 @ 2:21 am
djcrossfade1200 wrote :

i would love it if i could get my rev 1 and my ns7 to work at the same time so we can both dj at the same time on the same pc


as u can see i have 3 set ups one ns7 is going to be repaired .. vdj has support for 99 turntables so why not 2 mixers

---
Posted Sat 23 Apr 22 @ 2:31 am
that kind of set up, xf, obviously last touched takes precedence.
[I suppose a xf could be created for each device with simpleVolume plugin]

I've a skin made for that, if you're rolling 1 machine 2 screens
[I've also got a 2 laptops to 1 device skin(s) for dual usb devices]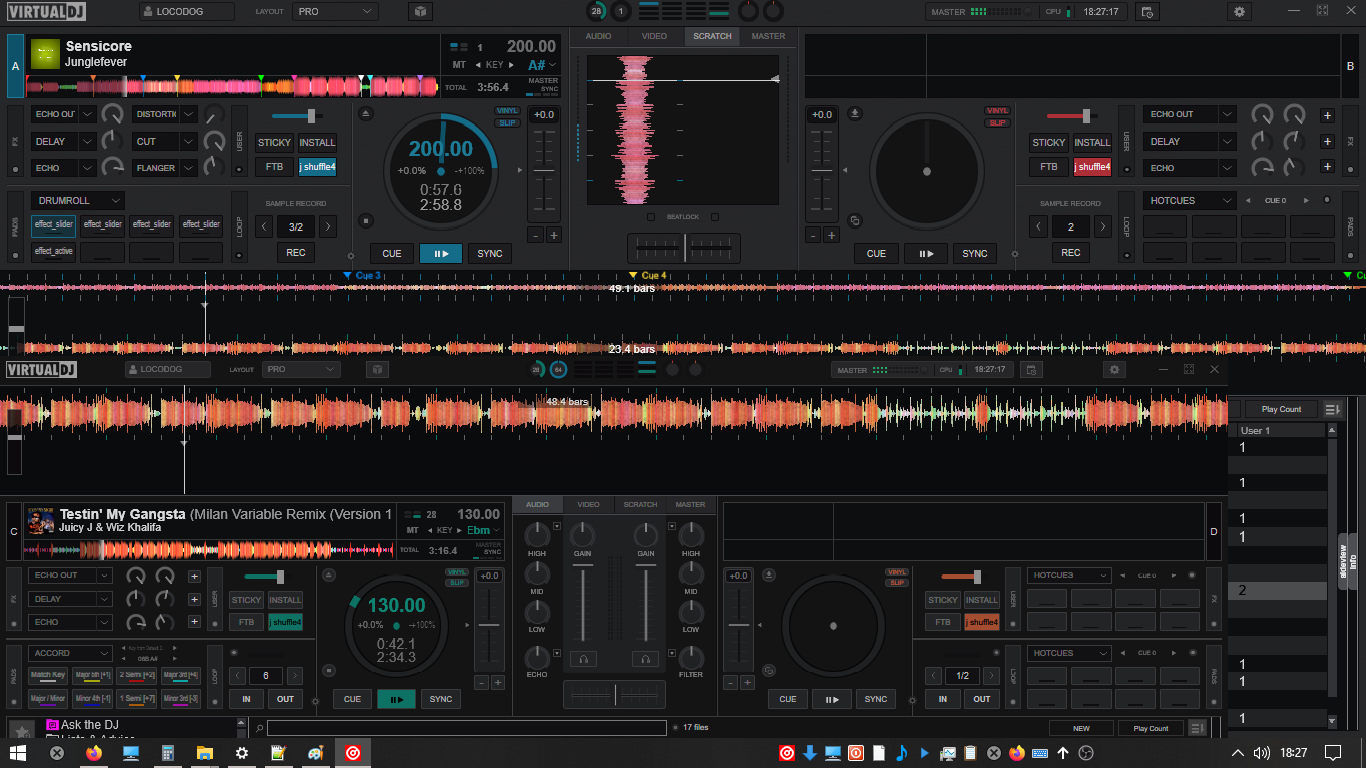 StretchInCanada did ask for me to share it but it's too confusing for a public release [if you didn't get it was for 1 machine 2 screens you just wouldn't get what it was about]
but stretch hasn't chipped in to the beer fund yet, so..., if you want it pm me.
---
Posted Sat 23 Apr 22 @ 9:49 am
thank you would this be plug in play ..sel dj set up one and sell dj set up 2 kinda thing
---
Posted Thu 28 Apr 22 @ 1:02 am
that isn't 2 crossfaders, it's 1 that's switched. [which can be done with xf assign already]

I'm talking about 2 independent crossfaders
---
Posted Thu 28 Apr 22 @ 2:34 am
It's far more complicated than that.
For starters, Rev7 has a HARDWARE MIXER (and a hardware crossfader) where NS7 has a SOFTWARE MIXER (and a software crossfader)

This means that for those two units it's almost impossible to make their mixer section work simultaneously.
You'll have to choose one or the other.
If both units offered SOFTWARE mixer, then it would be possible to use a script to toggle crossfader assignment and use both crossfaders (but not at the exact same time)

Long story short, it's far more preferable to use two computers (one with each controller) and route their audio on a third mixer (or bridge them) than trying to do something like that.
---
Posted Thu 28 Apr 22 @ 11:49 am
You could use the NS7 for audio output, and the Rev-7 only as midi though :p
---
Posted Thu 28 Apr 22 @ 1:12 pm
"i would love it if i could get my rev 1....."
---
Posted Thu 28 Apr 22 @ 8:57 pm