Forum: Wishes and new features

Features you would like to see in VirtualDJ
Topic: Serato alike presets

There ,somebody FINALLY had to say it. You guys can't deny it (especially you scratch turntablists).
There HAS to be (NO, DEMAND) a SERATO DJ style preset in options and tweaks that automatically reads SERATO DJ hotcues and crates on Virtual DJ . (Don't care where or how SERATO saves them, just have VDJ read them .) Including same BPM setting.

It has to include Instant doubles (clone deck on VDJ) and most important STICKER LOCK (or it is a waste of time without it)This "timecode Silence" business is too much of a pain to fine tune. Just get the exact setting like SERATO dj and lock it down, period, END OF STORY!!
I told you guys already if you want the hardcore scratch turntablists to leave SERATO and use Virtual dj, this is what you need to do. Just make it easy for them to switch and make Virtual dj even MORE versatile by including a SERATO preset!
SERATO has too much of a fan base for guys to switch, NO NEED TO REINVENT THE DVS WHEEL! JUST MAKE A SERATO DJ LIVE PREFORMANCE PRESET IN OPTIONS AND TWEAKS!
ADION AND THE TEAM GET BUSY!!!!!!!!!!!



---
Posted Wed 20 Feb 19 @ 1:35 am

Hey Adion , is this in the works or not? Trust me you guys do this you would put VDJ on a different level.
---
Posted Fri 08 Mar 19 @ 11:24 pm

GetCuesFromTag is already there and will read cues from serato
---
Posted Sat 09 Mar 19 @ 3:36 am

Not good enough ADION. Don't dodge the issue, you guys are smart enough to do this just DO THIS for the next upgrade. Get a copy of SERATO dj pro and study the F**K to out of it! Get some Serious DMC/IDA level scratch turntablists (not little punks ,REAL serious cats) to fix the f**king clone deck / sticker lock problem!
I along with other people would LOVE to see the SERATO fanboys shut their stupid mouths and badmouthing VDJ!
---
Posted Sat 30 Mar 19 @ 4:16 pm

avery416 wrote :

Get some Serious DMC/IDA level scratch turntablists ...



There are several videos of DMC champions demonstrating that VirtualDJ works as good as any other.. .
You can see VirtualDJ as part of the DMC US Championship partners etc.. And plaster their webpage with VirtualDJ.
These types of DJs rise above "this vs that".. and have been quoted on saying VirtualDJ is as good as anything else they have used.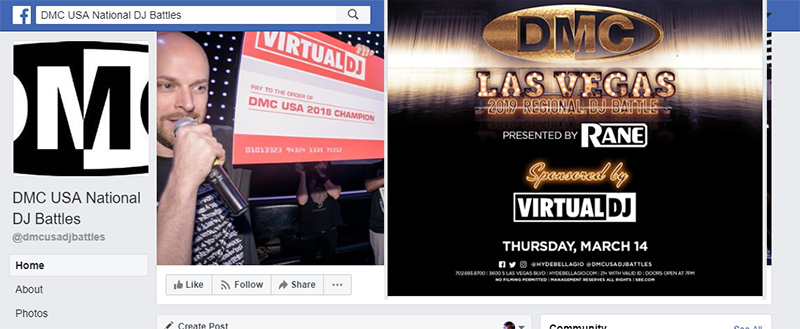 avery416 wrote :

I along with other people would LOVE to see the SERATO fanboys shut their stupid mouths and badmouthing VDJ!



That has usually nothing at all to do with what VirtualDJ is capable of, but rather "fanboy" mentality .. "us vs them" .. its a normal human defense mechanism, and how humans tend to organize themselves, "our group vs them".. and to try make themselves look better by putting others down ..
You will see the exact same thing in any field of interest/market where there are more than one top player.. macOS vs Windows, Android vs iPhone, Cola vs Pepsi, my football team vs yours... and the list goes on forever..

Has little to do with reality, and most such users never even tried other software, and if they did, they of course have a bias, and even learned ways.. "cant teach a pony new tricks" :)

VirtualDJ is as good as any other, and in many cases better than any other.. .





avery416 wrote :

a style preset in options and tweaks that automatically reads SERATO DJ hotcues and crates ... has to include Instant doubles .... etc etc etc




There is no "serato preset" (as in something that makes thing works better) as you think of it.. If there was any setting that would change things to be better, it would of course be default setting already ;-) For the other things, most everything you "demand" as features is already part of VirtualDJ ;-) and has been for the longest time...
Reading crates, reading cues, instant doubles etc etc.

(that being said, there are differences in "less important" parts of one software vs other, and thats more learned habits, than true performance differences.. such as keyboard shortcuts being different etc.. and VDJ comes with an alternative keyboard default setting just for that. And other "personal preference" sort of settings differ from person to person, and VirtualDJ has lots of things you can tweak your own way.. including mappers and what not)

- - - - -

Most of all its just your local self-proclaimed "hipster" DJs that has a narrow minded, fanboy attitude ;-)Keep in mind, DJing is a "insecurity game" .. You never know if you are good enough, if you do things right, and you constantly learn and progress.. The "cop out" thing some local djs might do, is to resort to using what they think others use, or what they have a perception is the right way etc. Some might say you must use this or that hardware brand to be a real dj, everything else is not good, others might say you must use vinyl to be a DJ everything else is fake.. And you must use this or that software.. and what not ..

Most all of such things are based in "fanboy mentality", or not knowing any better.. wouldnt loose sleep over what some local DJ might tell you or not ;-)
You'll hear same if you use Android or iPhone, is on a mac or pc .. nothing new in that :)


Or in the words of DMC USA Champion DJ Rectangle :



---
Posted Sat 30 Mar 19 @ 5:42 pm